PRODUCTION SESSIONS




SPARK FX 2021: CONFERENCE


March 4 - 14, 2021



This stream is all about the 5 W's: Who, What, Where, When, Why. The creative teams from top studio's present on the creation of some of the most thrilling, dynamic films and television series to date. Featured in this stream are popular productions such as The Umbrella Academy, The Expanse, Star Trek: Discovery, Monster Hunter and more. It's not just the "talks" there will be some pretty cool clips and techniques shared too.

STREAM CHAIR
Marina Antunes
Spark CG Society





SCHEDULE
DAY 1
THURSDAY - MARCH 04, 2021

8:00 am
ON-DEMAND
CREATING CREATURES WITH THE VFX TEAM BEHIND 'MONSTER HUNTER'
Moderator: Ashley Lynch Guests: Ayo Burgess, Jo Hughes, Tom Nagy & Trey Harrell
8:00 am
ON-DEMAND
THE VFX STORY OF 'THE UMBRELLA ACADEMY'
Moderator: Kelly Singh Guests: Cesar Dacol Jr., Gautam Singh, Jeff Campbell, Peter Giliberti, Simon Milner & Tim Sibley
8:00 am
ON-DEMAND
BIG EFFECTS FOR THE SMALL SCREEN:
DESTRUCTION IN 'THE EXPANSE'
Moderator: Kelly Singh Guests: Bert Poole, Kyle Menzies, Mahsa Ghorbankarimi, Mark Krentz, Paul DeOliveira & Tim Sibley
8:00 am
ON-DEMAND
BUILDING THE WORLD OF 'BRIDGERTON' IN VFX
Guests: Victor Tomi
8:00 am
ON-DEMAND
THE VFX JOURNEY OF 'WARRIOR NUN':
FROM PRE TO POST-PRODUCTION
Moderator: Marina Antunes Guests: Michael Blackbourn, Nick Whiteley & Paul Copeland
8:00 am
ON-DEMAND
INDIE PROJECTS THROUGH THE LENS OF A PROFESSIONAL VFX STUDIO
Moderator: TBA Guests: Nosipho van den Bragt, Rob van den Bragt & Tiaan Franken
8:00 am
ON-DEMAND
INDIE VOICE: IN CONVERSATION WITH GABRIEL KALIM MUCCI
Moderator: Marina Antunes Guests: Gabriel Kalim Mucci
DAY 4
SUNDAY - MARCH 07, 2021

12:00 pm
LIVE
Q&A: WITH CREW AT MR. X
Moderator: Ashley Lynch Guests: Ayo Burgess, Jo Hughes, Tom Nagy & Trey Harrell
DAY 7
WEDNESDAY - MARCH 10, 2021

11:00 am
LIVE
FROM MYSTICAL CAVES TO OUTER SPACE:
CREATIVE MULTI-TASKING ON 'STAR TREK: DISCOVERY 3'
Moderator: TBA Guests: Jelena Stojanovic

Thursday
Thursday - March 4, 8:00 AM
ON-DEMAND
CREATING CREATURES WITH THE VFX TEAM BEHIND 'MONSTER HUNTER'
Presented by Mr. X
Moderator: Ashley Lynch Guests: Ayo Burgess, Jo Hughes, Tom Nagy & Trey Harrell
Get an in-depth look at how each monster was created for Paul W.S. Anderson's cinematic adaption of the wildly popular video game film Monster Hunter with the creative team behind the visual effects. Join MR. X' Trey Harrell (VFX Supervisor), Jo Hughes (VFX Producer), Ayo Burgess (DFX Supervisor) and Tom Nagy (Animation Supervisor), as they walk us through how they adapted Capcom's famous video game creatures for the silver screen.
Thursday - March 4, 8:00 AM
ON-DEMAND
THE VFX STORY OF 'THE UMBRELLA ACADEMY'
Presented by SpinVFX
Moderator: Kelly Singh Guests: Cesar Dacol Jr., Gautam Singh, Jeff Campbell, Peter Giliberti, Simon Milner & Tim Sibley
This panel will introduce the audience to the superheroes behind the superheroes. SpinVFX' creative leaders will take viewers on a deep dive into the visual effects story of Netflix' The Umbrella Academy.
Learn how the creative leads brought the comic books to life on screen with CG characters, massive effects, apocalyptic environments, and much more. Viewers will get a unique look at the software, tools and techniques that were used to achieve the iconic sequences that have made The Umbrella Academy one of the most watched shows of 2020.
Not just talking heads — viewers will also get to see unique visual effects breakdowns that peel back the layers to reveal the extensive, detailed work that brought the story to life.
Thursday - March 4, 8:00 AM
ON-DEMAND
BIG EFFECTS FOR THE SMALL SCREEN:
DESTRUCTION IN 'THE EXPANSE'
Presented by SpinVFX
Moderator: Kelly Singh Guests: Bert Poole, Kyle Menzies, Mahsa Ghorbankarimi, Mark Krentz, Paul DeOliveira & Tim Sibley
The epic sci-fi series The Expanse has been on the air since 2015. For 5 seasons, audiences have watched as the show has taken them on a high-stakes journey to locations across the galaxy — and blown a lot of stuff up along the way.
SpinVFX' talented team of creatives has been with the series since season one, and with the jaw-dropping conclusion of the latest season, and only one more to go, this panel is an opportunity for the minds behind the visual madness to reflect.
Focusing on the enormous destruction sequences over the past five seasons, viewers will get to travel back in time to the early days of the show, and to learn about the creative decisions that shaped the story for the screen. The panelists will discuss the techniques and methods used to deliver the series, and share visual effects breakdowns to reveal their stunning technical work.
Thursday - March 4, 8:00 AM
ON-DEMAND
BUILDING THE WORLD OF 'BRIDGERTON' IN VFX
Presented by One of Us
Guests: Victor Tomi
A presentation which will provide insights into the techniques and the work process of the VFX created by One Of Us for Netflix-Shondaland hit show Bridgerton.
Thursday - March 4, 8:00 AM
ON-DEMAND
THE VFX JOURNEY OF 'WARRIOR NUN':
FROM PRE TO POST-PRODUCTION
Presented by The Embassy
Moderator: Marina Antunes Guests: Michael Blackbourn, Nick Whiteley & Paul Copeland
As the sole vendor on Netflix' Warrior Nun, The Embassy was responsible for completing nearly 700 shots with a studio of 30 artists, bringing the same level of quality the studio achieves in their film and commercial work. The team will discuss all aspects of production, from creature concept and on-set planning, to post-production, focusing on elements that were unique to the series and interesting challenges that The Embassy faced throughout the production.
Thursday - March 4, 8:00 AM
ON-DEMAND
INDIE PROJECTS THROUGH THE LENS OF A PROFESSIONAL VFX STUDIO
Presented by Chocolate Tribe Studio
Moderator: TBA Guests: Nosipho van den Bragt, Rob van den Bragt & Tiaan Franken
Coming soon.
Thursday - March 4, 8:00 AM
ON-DEMAND
INDIE VOICE: IN CONVERSATION WITH GABRIEL KALIM MUCCI
Moderator: Marina Antunes Guests: Gabriel Kalim Mucci
Coming soon.

Sunday
Sunday - March 7, 12:00 PM
LIVE
Q&A: WITH CREW AT MR. X
Moderator: Ashley Lynch Guests: Ayo Burgess, Jo Hughes, Tom Nagy & Trey Harrell
Monster Hunter: A live Q&A with the crew at Mr. X.

Wednesday
Wednesday - March 10, 11:00 AM
LIVE
FROM MYSTICAL CAVES TO OUTER SPACE:
CREATIVE MULTI-TASKING ON 'STAR TREK: DISCOVERY 3'
Presented by DNEG
Moderator: TBA Guests: Jelena Stojanovic
DNEG Compositing Supervisor Jelena Stojanovic leads us through the highs and lows of meeting the varied demands of episodic projects. Using her recent work with the DNEG VFX team on Star Trek: Discovery Season 3 as an illustration, Jelena takes us on a journey through the diverse environments that make up the show's narrative. Tune in to learn how Jelena and the DNEG team approached diverse settings, from San Francisco Bay in the 32nd century to the vast Verubin Nebula. This session will remind us of the importance of agility in visual effects work and the value of constant creative reinvention and reevaluation — even while working on the same show.

BIOGRAPHIES
Coming soon.
Ayo Burgess
DFX Supervisor // Mr. X

Coming soon.
Jelena Stojanovic
Compositing Supervisor // DNEG

Jo Hughes
VFX Producer // Mr. X

Kelly Singh
Head of Communications // Spin VFX

Kelly has long worked parallel to the film sector, often as an advocate on government policy that has driven the growth and direction of the film industry in Ontario.
Her versatile background has been foundational to her development from Policy Advisor to Minister Michael Coteau, and later to Minister Eleanor McMahon at the Ontario Ministry of Tourism, Culture & Sport. Combined with her initial transition in to the film industry on the studio developer side in Toronto, Kelly quickly gained a love for post-production and AR/VR technologies.
Marina Antunes
Film Critic, Podcaster, Festival Director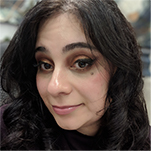 Marina has been writing and discussing film for over 15 years, first on a personal blog followed by a decade long tenure on the now retired Row Three. In 2008, she joined the writing staff at Quiet Earth, becoming Editor-In-Chief in 2014, a role she still holds. Over the years, she has also produced and hosted a number of podcasts including Before the Dawn, a long-running podcast on the Twilight franchise, Girls on Pop, a podcast on film and popular entertainment from women's perspective and After the Credits, bi-monthly film podcast with nearly 300 episodes.
Marina is a member of the Online Film Critics Society and the Alliance of Women Film Journalists, is the Vice President of the Vancouver ACM SIGGRAPH chapter and has served on juries for several film festivals including DOXA, St. Louis International Film Festival, and the Whistler Film Festival. She joined the Spark CG Society as Festival Director in 2014.
Quiet Earth
After the Credits
Twitter
Facebook
Michael Blackbourn
VFX Supervisor // The Embassy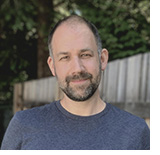 Michael Blackbourn began his career as a visual effects artist in 2001 after training as both a pencil-and-paper and 3d character animator. Over his nearly twenty-year career he has personally handled every facet of visual effects. He has specialized over time, in shading, lighting, and now as an overall VFX supervisor. He's been with The Embassy since 2006, leading the team to bring life a variety of projects in television, commercials and feature films. While at Embassy, Mike has supervised projects including; Iron Man, Lost in Space, Hunger Games, and our current series Warrior Nun for Netflix.
Nick Whiteley
Comp Supervisor // The Embassy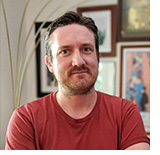 Nick has over thirteen years of experience compositing high end block buster features and TV. Some of Nick's credits include Wrath of the Titans, Narnia, Pirates of the Caribbean, Sherlock Holmes II, Night at the Museum, Maleficent, Sully, and more recently Wrinkle in Time and Skyscraper before turning to work on shows for Netflix and other streaming services.
Before coming to The Embassy, Nick had worked at three of the major VFX houses, Framestore, MPC and Cinesite.
As lead compositor at MPC, he won Employee of the Year for his work on Disney's The Finest Hours — a challenging film about a boat rescue in a storm, involving over 600 shots with CGI water and weather.
With over a decade closely working with some of the most renowned VFX supervisors and producers in the field, Nick has a strong skill set which encompasses all aspects of the industry. As a compositing supervisor, Nick has built several teams throughout the years. Seen as a motivator and a leader, artists enjoy working alongside Nick to produce the best work that they can.
Nosipho van den Bragt
Owner, Managing Director // Chocolate Tribe Studio

An attorney, creative business entrepreneur and aspiring writer, Nosipho is a multipotentialite that thrives in idea synthesis, rapid learning, and adaptability. With a passion for storytelling and breathing life into concepts in visually realistic ways, but also a passion for advocating strongly for creatives, Nosipho co-founded Chocolate Tribe in 2014.
Nosipho has helped cultivate Chocolate Tribe into a professional Animation and VFX studio that not only produces work of the highest international standard, but with its over 20 years of industry experience, a studio that aspires to harness and develop the potential of young talent in the Animation and VFX industry.
As an owner and managing director of Chocolate Tribe, Nosipho continues to be an advocate for growth and development. Breaking local and international boundaries with global clients in feature film, TV-series and commercials.
Paul Copeland
Asset Supervisor // The Embassy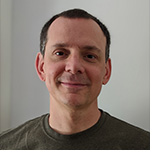 Paul Copeland has been at The Embassy VFX for over 14 years. His diverse skill set encompasses all aspects of digital asset creation, animation, on-set supervision and CG supervision. During his career as a generalist, he's focused primarily on the creation of high-quality assets for film, television and commercials with a portfolio that ranges from the creation and animation of the Iron Man Mark 1 and District 9 Exosuit to making creatures, vehicles, and environments for some of the world's biggest brands. Paul thrives on bringing amazing designs to life on screen and helping creators tell their stories.
Rob van den Bragt
Executive Creative Director, VFX Supervisor // Chocolate Tribe Studio

Coming soon.
Tiaan Franken
Executive Technical Director // Chocolate Tribe Studio

Coming soon.
Tom Nagy
Animation Supervisor // Mr. X

Trey Harrell
VFX Supervisor // Mr. X

Coming soon.

© 2021 · Spark CG Society