Terabyte Sponsor




Megabyte Sponsors




Kilobyte Sponsors




Byte Sponsors




Partners




Alliance Partner







MEET THE MASTERS




SPARK FX 2021: CONFERENCE


March 4 - 14, 2021



This isn't your average 'tips and tricks!' These lectures are designed for the professional compositor and covers common gaps in standard Compositing training. Our goal is to elevate any compositor through awareness, managing CG, how the math actually works, selective stylization and ultimately, understanding your role in the bigger picture.

Join us for the lectures and a panel about Compositing with our industry professionals.

STREAM CHAIR
Chris van Dyck
Crafty Apes VFX Vancouver





SCHEDULE

Thursday - March 4, 6:00 PM
PRESENTATION
OUR FUTURE MASTERS
moderator: Zoe Cranley
Vancouver is bustling with brilliant, up-and-coming talent. Let's meet these Rising Stars, Our Future Masters! Please join us for a fun-filled session moderated by Zoe Cranley, Spark CG Society's Chair, where we'll get to know more about the individual artists, what inspires them daily, their skills, and where they hope to see themselves in years to come!

BIOGRAPHY
Zoe Cranley
Head of CG // DNEG
(Wonder Woman, Alice Through the Looking Glass, Godzilla, Hunger Games: Catching Fire)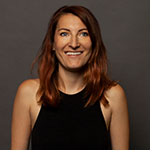 Zoe Cranley joined DNEG after graduating in 2005. Originally based in London, she progressed through roles as Matchmove Artist, Generalist TD, Lighting TD, Lighting Lead and CG Sequence Supervisor working on the likes of Harry Potter: The Order of the Phoenix, The Dark Knight, Sherlock Holmes, and John Carter. In early 2012, Zoe moved over to DNEG Singapore, as CG Sequence Supervisor before moving on to become CG Supervisor on the likes of Hunger Games: Catching Fire, Muppets Most Wanted, and Godzilla.
In 2015, Zoe took on the challenge of heading to British Columbia to help set up DNEG Vancouver. She worked as CG Supervisor on Alice Through the Looking Glass and Wonder Woman. In March 2017, Zoe took on the Head of Build Department role at DNEG and now currently role is the Head of CG for DNEG Vancouver. She is also on the leadership committee of SPARK CG Society and Vancouver ACM SIGGRAPH Chapter, of which one main responsibility is being the Conference Chair for SPARK FX.

© 2021 · Spark CG Society