INTERVIEW
by Jessica Fernandes, Spark CG Society
March 5, 2020
Inside FatBelly: An Interview with Shannan Louis
International Women's Day is an annual event to celebrate women's achievements and spread the message of female empowerment and gender equality. It has been recognised for over a century and continues to grow in reach worldwide every year. To celebrate this year's Women's Day, we sat down with Shannan Louis, Founder and Head of Studio of FatBelly VFX, a boutique VFX facility that recently opened in Vancouver. On an auspicious sunny afternoon, we caught up about the journey to creating FatBelly, her vision for the company, and insights gained as a female entrepreneur.
Tell us a bit about your background? What led you to where you are now?
I began my professional career working in commercial production, and unexpectedly fell into the nonprofit sector. There was a need and urgency in that area which drew me in, and I'm so thankful that it did. Those years of dedicated, personal work, connecting with people and making a difference in their lives, shaped the perspective and openness that I pride myself in today. But the draw of film was too strong to ignore; when I was offered an opportunity to study documentary filmmaking (something I had always been fascinated by), I couldn't pass it up. After graduating, it was clear that film and television would be my path. I accepted a role as Studio Manager for Psyop's Film & TV division, and grew quickly within the company. Tailoring how I'd like to lead, building on my commitment to positive company culture, and always looking for ways to improve — the company, environment, and myself, I continued on that trajectory, taking on the roles of Studio Operations Manager and Head of Studio at other companies in town. What I hadn't realized — over the years, I had subconsciously been crafting an idea for my ideal studio. It was now time to bring it to life, and FatBelly VFX was born!
What prompted you to set up FatBelly here, now?
Vancouver is a thriving hub for VFX and creative work, boasting a wealth of talented artists. And, it's home. Some might say it's a saturated market, but it's actually prime ground for growth, if you know what you're looking to achieve. FatBelly is a boutique studio, staying true to what makes that great — small, personal, and exceptional quality work. We're partnering with clients who, like us, embrace creative solutions, tech-forward practices, and understand the importance of candid, collaborative environments. Currently specializing in 2D VFX, with 3D close behind, we're delivering greatness with a personalized touch.
As for "why now"? I had a clear vision for FatBelly and needed to ensure it didn't get diluted or lose its way. Now was the perfect time to pursue it.
What is your vision for FatBelly?
FatBelly's focus is on exceptional partnerships, engaged crew, and outstanding work.
At FatBelly, we've created an environment where artists are empowered, engaged and invested in. Leadership is about putting others first and having your team's back. Putting your ego aside and remembering you can learn from everyone. I want to inspire people to do their best work, because the company isn't about me it's about them.
And it's about finding the right clients to partner with. At FatBelly, we value genuine and honest interaction. And we understand that it's not just about improving efficiencies, removing roadblocks, and executing outstanding work, but also looking to make our clients' lives easier upstream as well.
What do you see as the future of VFX?
Given the current trends in the industry, it's apparent that we're going to see more boutique studios and cloud-based environments in our near future. With the wealth of streaming work, minimized overhead costs, and the ability to stay nimble and adaptive when small, boutique studios have a lot to offer. FatBelly operates 100% in the AWS cloud, enabling us to have high performance machines and the best render speeds available, at a cost effective price point.
What surprised you the most about launching your own studio?
The outpouring of support in the community. It was inspiring to see how generous people were with their time, investment, and expertise. And the province of BC offers great resources for entrepreneurs. When people believe in your project and mission, they want to see it succeed. FatBelly is testament to that.
What advice would you give to aspiring female entrepreneurs?
Don't be afraid to ask for help. Being entrepreneurial doesn't mean doing it all on your own, and it certainly doesn't mean you have to know everything. Surround yourself with smart people, who believe in your vision, challenge you, complement your skills, and who can help drive your idea forward. Trust in yourself and your abilities. You've got this.
What have you been most proud of in your career so far?
I thought founding my own studio would be my greatest achievement, but it was actually the journey to getting here, and being able to help others along the way, that I'm most proud of. I'm surrounded by smart, strong, talented, capable women, and yet it was only in seeing me go for my goals that a number of them realized they were just as capable themselves. Since founding FatBelly, two rockstar women in my circle have gone solo and pursued their lifelong dreams. Fear and imposter syndrome had held them back, but in chatting through the realities and challenges of stepping outside their comfort zone, they were inspired to go for it.
Throughout my life, other womens' journeys have encouraged and inspired me. I'm elated to be able to return the favour.
What does the 2020 International Women's Day slogan, "I am Generation Equality: Realizing Women's Rights" mean for you in your work life?
The slogan hits home for me. We need to make sure that equality is something that we're always talking about so that one day it won't be an issue, it will just be the norm. At FatBelly we speak openly about how best to ensure we have a workplace that gives men and women equal opportunities. A strong piece of that, especially in this field, is actively seeking out more women for creative positions, investing in women early, and supporting their growth. There's no doubt that men have had more opportunities than women, but the tide is turning and we all need to continue to fuel that momentum. And gender equality is only one piece of the puzzle. We need to be looking at diversity and inclusion across the board.
Can you tell me about a female figure who has inspired you?
There are a wealth of women who inspire me, both from my everyday life, and from history. Recently awakened to her impressive contributions, on this International Women's Day my pick would be Dame Mary Gilmore. She's an Australian author, journalist, poet, patriot and campaigner against injustice and deprivation. If you've ever travelled to Australia, you've probably seen her likeness. She's featured on the Australian ten dollar note.
And finally, I have to ask, what was the inspiration behind the name FatBelly?
When I was thinking up a company name, I started questioning why we, as professionals, do what we do. Working with incredibly talented people, on visually breathtaking, cutting-edge projects, is what drives many of us in this industry. But at its stripped down core, we're also working to put food in our bellies and the bellies of our family. I want my team to always be full in that regard, thus FatBelly.
And my desire to satisfy an essential need reaches beyond just caring for those who work at FatBelly. As a business owner, and human, I feel it's my responsibility to give back to the community around me. I want others to benefit and have "FatBellies" too. FatBelly is committed to positive impact. This year, we'll be donating to the Downtown Eastside Women's Centre, and plans are already in the works on internal initiatives for volunteering and increasing social awareness within our teams.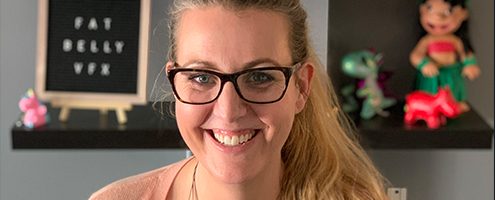 | | |
| --- | --- |
| | Jessica Fernandes is an adventurer and wordsmith based in Vancouver. She enjoys spreading appreciation for the arts through stories and encounters with inspiring creators. |


© 2023 · Spark CG Society