INDUSTRY NEWS 2019
by Jessica Fernandes, Spark CG Society
June 29, 2019
A Lesson in Comedy
"If it gets long and tedious, just know there's a free lunch coming, so at least that's gonna be something to look forward to" he opens with, in brilliant deadpan delivery. If you weren't already sold by the long list of accolades to his name, his humour and charisma takes hold of you within mere seconds. Welcome to the start of an incredibly entertaining day at Spark CG Society's "Animating Comedy Characters" Masterclass with Tony Bancroft.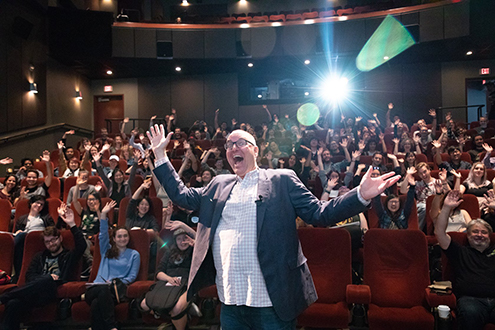 So who is Tony Bancroft? With nearly 30 years of animation experience, no bio would quite do him justice. Ever marvelled at the comedic charms of Cogsworth, Iago, Pumbaa, Kronk? Tony had a hand in all of them — as an animator on Aladdin and Beauty & the Beast, and as a supervising animator on The Lion King and The Emperor's New Groove. He co-directed Mulan, was Animation Director for Stuart Little 2, started his own animation studio, was one of the animators brought back to do 2D animation for Mary Poppins Returns, and currently has two projects on the go.
With a wealth of knowledge, and a finite amount of time to impart it, Tony divided the day into four sections, starting with his background and influences.
Personally, I've always loved hearing people's backstories and marvel at what twists, turns, challenges, and opportunities brought them to where they are now. Through humour, anecdotes, photographs and drawings, Tony weaves us his history. "That's me on the right — yeah, I used to be skinny, and I used to have hair. I miss myself in a lot of ways" he quips, pointing to a teenage version of himself, next to his twin brother Tom. Enamored by comics, creative, smart, and industrious, they were joined at the hip for much of their lives. After meeting someone who did claymation, what had previously seemed like "some kind of rocket science, with higher math involved," suddenly appeared achievable. This was their animation AHA! moment; they were officially hooked.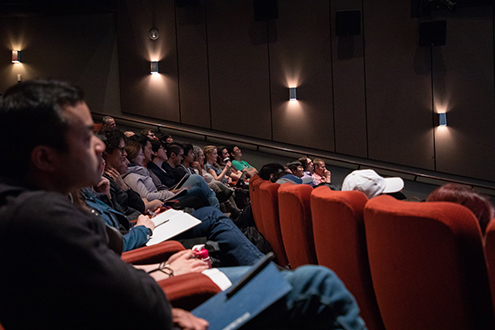 It's remarkable, with such a big, bold personality, Tony could easily have an imposing presence. Instead, he has a warmth and charm that makes us feel like we're here having coffee with an old friend, not sitting in a packed theatre with 118 other creatives. And he includes us in his conversation-style presentation, throwing it out to the room to name the Nine Old Men, asking our opinion on Chuck Jones' animation, leaving the floor open for questions at all times, and going off on interesting tangents as he and Dave Burgess (Animation Supervisor at Animal Logic, and moderator of the talk) reminisce about their time at Disney.
Before we leave for the first break of the day, we gain insight on why Tony gravitated towards comedy: "What I loved about comedy characters is that you'd go to the screening or go to the movie theatre when the movie came out and it either lived or died based on that reaction. I was always waiting for it — are they going to laugh. A scene of mine would get a laugh and that was the best possible feeling." We also learn about Sergio Aragones, Ward Kimball, and Will Finn, all influences on his work. And we get to hear Tony's killer Kronk impression. My jaw nearly hits the floor. Did I misread, and this is actually a seance channeling Patrick Warburton? Incredible. As an aspiring voice-actor, I'm doubly impressed.
We're back from break, and off to a rip-roaring start. Did you know there were fart gags in ancient drawings? I can't say I did, but I'll count that towards one of the many things I'm learning today. And we're not stopping there. From Commedia dell'Arte, to the Yellow Kid, and the advent of the first comic strips, Tony's taking us on a walk through animation history.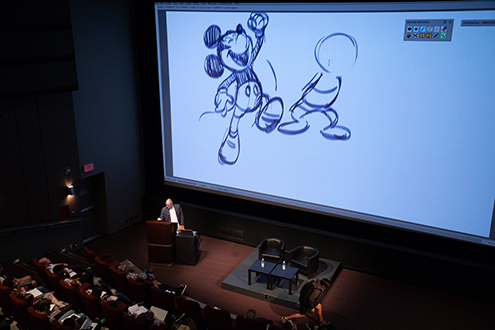 Next up, character archetypes. The goofball, the wise guy, the innocent, the hot head. We all intrinsically know these types, but Tony puts our knowledge to the test with an on-the-spot exercise. We're guided through groups of familiar faces: Mickey and Friends, the Looney Tunes gang, The Flintstones, and others, and get to yell out who fits which archetype. We're encouraged to offer additional suggestions, debate Tony's take on things, and ask questions. I can't remember the last time learning was this much fun. Azusa Pacific University is lucky to have him as their Program Director.
Now that we're warmed up, Tony layers on additional texture. Where does your character sit on the spectrum of broad to realistic? If you were to define your character in one pose, what would it be? What are the various ways we can show the same emotion? Are you looking for uniqueness in how you depict a stance? Continuing with examples and active participation exercises, he's showing us the world through his eyes, enabling us to better identify and apply these concepts to our own work. A lover of good storytelling, I'm impressed at how effortlessly he's weaving in context for some of the historical photographs he's using as reference. As if it wasn't enough that he's sharing his animation experience with us, he's found a way to further enrich the experience. I know I, for one, am more likely to remember the teachings as a result. My main takeaway of this section — it's easy to get comfortable with the familiar. Push outside of that and challenge yourself to re-examine the everyday. I'll likely never look at a queue of people the same way now — each person an opportunity to explore uniqueness in weight shifts, subgroups, and subtlety in poses.
Lunch Break!
Despite Tony talking up the chicken sandwich all morning, once I'm in line, I hear the turkey one calling my name. And it's delicious. I'll be frank, I was wary when I heard mention of a boxed lunch, having had one too many lackluster ones at conferences and workshops elsewhere. But here, I'm pleasantly surprised. Smoked turkey on cranberry walnut bread, a tasty cookie (for the sweet-tooths, like me), an apple (to make you feel less guilty for devouring the cookie...), and a bottle of water. Nicely done. Fueled up and ready to go, we re-enter for the final sessions of the day.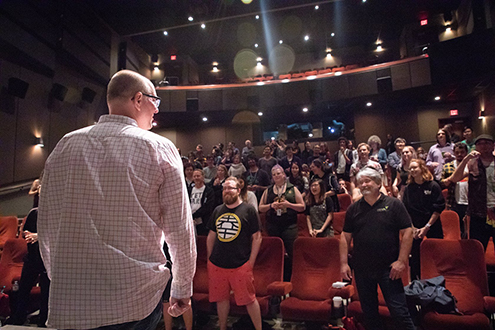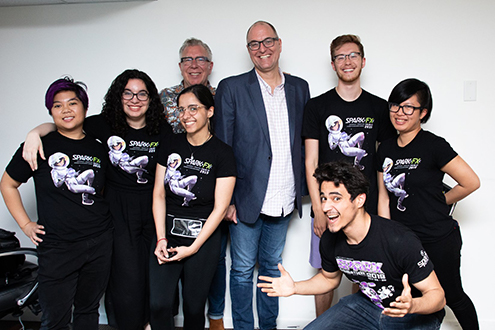 Back in the theatre, we're invited to stand for a quick post-lunch stretch. And now that we're standing, we might as well sing karaoke as a group, right? Expect the unexpected with the Spark team! When the visuals fail to display, and everyone sings regardless (a great many knowing the words to Mulan's "I'll Make a Man Out of You" by heart), I remember why I love this community. Fun, quirky and supportive, this tribe is definitely a keeper.
Bellies full, and laughter abounding, we're pumped for what comes next — a crash course in comedic gags. We run through the structure of a gag, and then get to see the importance of "contrast is key to comedy" via animated film examples. It's a good thing Kung Fu Panda's Po isn't a real person, or it would seem cruel and unusual to watch the varied physical misfortunes he suffers, on repeat. We analyze intently, deconstructing why a particular gag works well. Then back to rapid-fire quiz format, as we get tested on our understanding of the different types of gags (such as spot gag, running gag, gag that builds). It feels light and entertaining, a moment shared with a generous group of instant classmates. Adding to the experience, Tony plusses our responses as we go, pointing out subtleties we may have missed.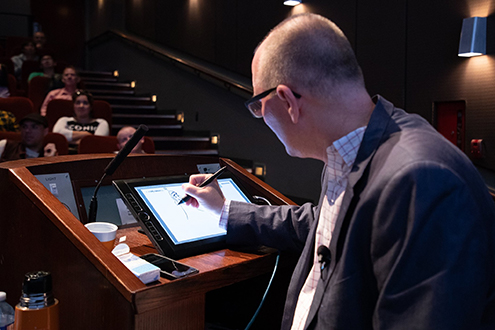 It's 3PM already, the day having flown by in an inspiring whirlwind of information. We're now at our last session, a case study in how to push the envelope — with the underlying idea that "bigger is funnier." Tony pulls up an iconic sequence he had created (where Kronk meets his shoulder angel and devil) and walks us through his step-by-step process from concept design to final. It's interesting to see how the sequence evolved over time, how he choreographed his choices to direct our eyes, what ideas were dropped in order to tell a more compelling story, and how sometimes it takes an outside perspective to realize that less is more. Which ties back to something he had alluded to earlier in his presentation — that sometimes it's not a question of getting more frames so you can have your character do X and Y, and have a particularly epic moment. It's about seeing what comes before your scene, what comes after, and what is needed of your character at that particular moment in time. When someone in the audience asks what, if anything, changed in his animation after he directed a film: "I now have a much keener sense of my character's overall, instead of just looking at him in the vacuum of a particular scene."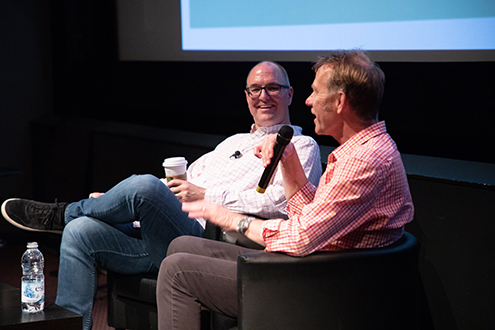 The day winds down to a close with Dave moving from the audience to the stage, to continue the fireside banter he and Tony have been having all day. It's great to be a fly on the wall as they flesh out their shared stories, allow us a glimpse into another time, and interject with anecdotes between audience questions. Today's masterclass has been a lesson in comedy and animation, but also one in ease of communication. It's not often that you witness someone as talented and acclaimed as Tony speak with such generosity, comfort, humour, and candidness. It leaves you feeling like you've made a new friend... one who just happens to have co-directed Mulan.
| | |
| --- | --- |
| | Jessica Fernandes is an adventurer and wordsmith based in Vancouver. She enjoys spreading appreciation for the arts through stories and encounters with inspiring creators. |


© 2023 · Spark CG Society