INTERVIEW 2018
by Ian Failes, Spark CG Society
March 30, 2018
VFX Supervisor Peter Chiang Breaks Down 3 Killer Pacific Rim Uprising Scenes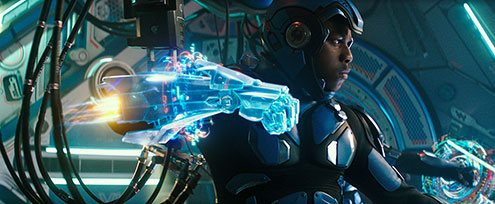 The latest incarnation in the Pacific Rim franchise is director Steven S. DeKnight's Pacific Rim Uprising, a sequel to Guillermo del Toro's Jaeger versus Kaiju extravaganza from 2013. Full of full-on robot and alien creature battles, the newest film required the firepower of visual effects studio Double Negative, via its several offices around the world, including in Vancouver, and studios such as Atomic Fiction, Territory Studio, Turncoat Pictures and an in-house VFX team. A number of previs companies also contributed: Halon, The Third Floor and Day for Night.
In this visual exploration of the film, production visual effects supervisor Peter Chiang, from Double Negative, discusses three key scenes of VFX action from Pacific Rim Uprising, and how they were made.
Scrapper Makes a Run for It
The scene: Early in the film, Jake Pentecost (John Boyega) stumbles upon amateur Jaeger builder Amara Namani (Cailee Spaeny) and her illegal robot Scrapper. They are cornered by authorities — via a massive Jaeger called November Ajax — and make a run for it.
How it was made: "Scrapper's interior — it's conn podd — had fixed walls and a fixed area around its cradle for when it was walking," says Chiang. "But then it goes into this ball mode where it collapses into a rolling junkyard, if you like, a mass of metal, and tumbles around in order to increase speed to get away from November Ajax. There were two ways of shooting that.
"We shot the static areas with an existing set where production designer Stefan Dechant built the interior of the Scrapper robot. And it was all on gimbals and everything shook. But then when we needed to collapse it and get it into a metallic ball, it was shot against greenscreen so that we could do that transformation in CG, where all of the walls rotating were completely done CG."
Obsidian Fury Makes a Surprise Appearance in Sydney
The scene: Rogue Jaeger Obsidian Fury suddenly appears in Sydney and is taken on by Gipsy Avenger, piloted by Jake and Nate Lambert (Scott Eastwood).
How it was made: "That was filmed in Sydney and Brisbane," explains Chiang, "including some amazing shots around the Opera House. We had to come up with ways to visualise the robots which obviously weren't there on the day. When you're in the city, we take it that every floor is roughly 10 foot. So we would end up counting the buildings around, 24 floors high and saying, that's a rough guide as to how big Gipsy Avenger is within the set.
"We also had to have a pipeline in place to place progressive damage over Gipsy Avenger after he goes through different battles — it's not likely he would get a spring clean after every battle and get repaired. Steven wanted to degrade the robots through storyline and keep those scars, so that the next battle he would have the battle scars from Sydney in Siberia."
Gipsy Avenger and Obsidian Fury Fight in Siberia
The scene: Jake and Nate pilot Gipsy Avenger to Siberia where they have tracked Obsidian Fury and engage in a battle amongst the ice.
How it was made: "We went to Iceland to shoot the plates for that," outlines Chiang. "Then once you get into the CG of it all, the plates ended up being textures for what was mid-ground and infinity, and then all of the interactive areas ended up being CG.
"So the effects artist developed lots of layered snow techniques for the robot pushing his foot down, how much snow is on the robot as it gets blown around in the atmosphere, how much gets gathered on the feet, how much sticks to the metal, how much gets compressed by his footprint, and how much is floating in the atmosphere as he moves around in a snowstorm."
All images © 2018 UNIVERSAL STUDIOS. ALL RIGHTS RESERVED.
| | |
| --- | --- |
| | Ian Failes is a Sydney-based writer specializing in visual effects and animation. He also collects memorabilia from the film Speed. Follow him at @vfxblog. |


© 2023 · Spark CG Society