INTERVIEW 2017
by Jessica Fernandes, Spark CG Society
November 17, 2017
The Breadwinner: Thought-Provoking Artistry
Captivating, heart-rending and inspiring, director Nora Twomey's The Breadwinner transports us to the world of Parvana and her family. Set in Kabul under Taliban rule, here women are forbidden from attending school or roaming unescorted, a father can be unjustly taken from his family, and fear and watchfulness pervade. But amidst the struggle is strength: courageous young girls posing as boys to fend for their families, kindness and understanding sprouting in unlikely places, the power of storytelling, and hope finding its way to the surface.
Heralded one of Variety's 2017 top ten animators to watch, Twomey is one of the founders of Cartoon Saloon studio, where she co-directed The Secret of Kells and was head of story and voice director for Song of the Sea. The Breadwinner film, based on the award-winning novel by Canadian author Deborah Ellis, is Twomey's first solo feature — and it's already making waves. The Ireland-Canada-Luxembourg co-production was awarded both the Grand Prize and Audience Award at the inaugural Animation Is Film festival in Los Angeles and is a top contender for this year's animated feature Academy Award.
Kicking off this year's SPARK ANIMATION conference and festival (Oct 26 – 29, in Vancouver, Canada), Twomey received one of the inaugural Women in Animation Diversity Awards "established to celebrate outstanding contributions to diversity and inclusion in the animation industry." Post presentations, she introduced the Western Canadian premiere of The Breadwinner to a packed theatre. And treated attendees to the creative process behind the project, as part of the conference.
We had the privilege of sitting down with Ms. Twomey for a Q&A to gain additional insight into the making of the film. Read on for more.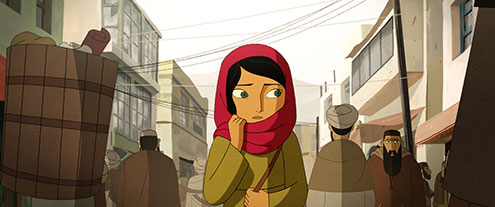 The film diverges significantly from Deborah Ellis' book, on which it's based. What most prompted and informed those changes? And what was the biggest challenge in maintaining the essence of the original story, while bringing your interpretation to the screen?
Deborah Ellis was incredibly generous and trusting. She came to see Song of the Sea at TIFF when The Breadwinner film project was just starting out and she understood the type of films we make and the thought that goes into them. She had written a draft of a screenplay back when Aircraft Pictures were intending to shoot the film in live action. Both myself and Anita Doron, the screenwriter, read that draft and used elements from it, like Nurullah's use of story for instance, in the animated script. Deborah contributed notes to each draft of the screenplay but when the film went into animatic stage, she left us to find the path forward. I think it takes a really strong writer to let a film based on their work be its own thing and Deborah is just that. She had written such a beautifully strong, flawed, Afghan, universal character in Parvana, it was easy as a director to let myself be led by that character. I wanted to acknowledge the change in world politics since the book had been first published in 2000, so trying to add that sensibility was key to this interpretation of the material.
You've often mentioned the importance of "authenticity" when speaking about the film. What did the research phase look like?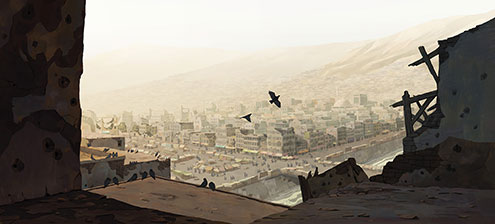 We relied on spoken guidance more than pictorial reference. Considering 80% of Kabul had been destroyed and cameras were forbidden when at the time the movie is set, listening to people's stories and their impressions were more important than getting a street geography exactly right. For some of it, we used our imaginations, the prison interior for example, was very difficult to find reference for so we just imagined what it was like.
Listening to how Afghan people describe themselves and each other and then translating that through the hands of artists and animators, somehow made more sense for this film. It felt like our crew were silent and still enough to hear properly.
What can you tell us about the visual aesthetic (character/set design, colour palette, animation, etc.)?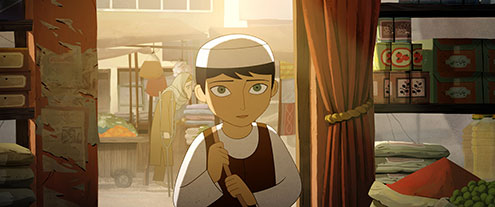 Certainly using a muted colour palette for Kabul, making sure the richness of colour came from the produce on sale, made the film environments feel real and grounded. We wanted the film to be as immersive as possible so continuing on that idea with sound design, where you can hear things off screen, was important. We have gentle camera moves across a lot of the film so it feels like we're continually stepping closer to the characters. Reza Riahi had a wonderful, warm way of creating characters with just a few strokes of his pen. Simple characters, whose eyes betray a complicated thought process and subtle animation, so we felt the character's vulnerability, were key to our approach to the film. Sandra Anderson then made sure Reza's character designs were easily animated, modifying them so they had full range.
With the 'story within a story' Reza and Alice Dieudonne, Janis Aussel, San Suryavanshi and Stefano Scaoloan had a lot more freedom to take motifs from Afghan, Persian and Indian artwork, especially miniature paintings, to inform this world and give it a sense of history and culture which the regime tried to deny the Afghan people. During the period the film is set, Afghans went to great lengths to preserve their history, to keep it safe for future generations.
From a cultural standpoint, what was the most surprising difference you needed to take into account? Most unexpected similarity?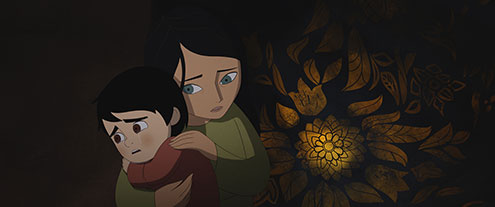 I think Parvana's sense of responsibility toward her family felt most strange to my Western eyes. We have such a cult of the individual evolving since the 60's here in the West, looking at a child who sees the health of her whole family as her priority rather than her own health as an individual, is a hard concept to work into a traditional three act film structure. Parvana's goals being based around survival, strength and love rather than a clear-cut 'happy ever after/mission accomplished' felt correct given the subject matter and all our research but it is difficult given what we expect from a cinema experience. In terms of similarities, as an Irish person, the Afghan sense of humour is something I can relate to. Black humour and humour that has a kind of gentle teasing about it is something I see in both cultures.
The secondary narrative (the Elephant King story) beautifully mimicked hand-crafted cutout animation. What had you choose cutout? And can you walk us through how that look was achieved/how you kept it authentic?
The film was always one of contrasts; between light and dark, outside and inside, the spoken and unspoken, real and imagined worlds. Reza Riahi, Ciaran Duffy (the film's art directors) and the team searched for a long time to find the specific looks for both worlds. I wanted the story-within-a-story to be cut out but I knew we didn't have the expertise or resources to take cut-out to that level of production values — so we asked cut-out animator Janis Aussel to shoot as much practical reference as she could with paper and a camera. Then Sheldon Lisoy and Sanatan Suryavanshi of Guru Studio recreated it in Nuke, conferring with Cartoon Saloon's Jeremy Purcell so we knew how many layers of animation and backgrounds to export so the scenes could be lit in such a way they looked cut-out. It was a case of imposing limitations on composite in a clever way.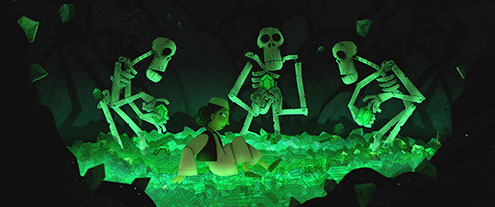 How many artists and animators worked on the film?
Over two years and three countries something like 200 artists, animators worked on the film, adding in texturers, compositors, technical directors, production staff it's closer to 300. It was a truly great experience with everyone going above and beyond to make the film as beautiful as we possibly could.
What was the biggest challenge in creating a film over three locations? Most noteworthy creative solution to help overcome an issue?
Having a brilliant Assistant Director like Stuart Shankly meant a 'them and us' attitude never developed across the large expanse of the Atlantic Ocean. Stuart spent the first year in Ireland as the film developed and the second year in Canada as the film moved into compositing, bridging the gap with our shared sensibility. I never think of these co-productions as limiting, we get to use the energy of each team, each department no matter where they are based. If you're prepared and have enough production staff calling out problems before they have a chance to fester, then you get to use the strengths of several studios and visit nice cities! Using a production pipeline software (in this case Shotgun) meant the film's progress could be monitored in real-time online, from anywhere with assets being pulled down no matter where I was. Our partners in Melusine in Luxembourg were also really fantastic.
A contrast amid the tumultuous events of the film, was familiar repetitive imagery — the family sharing a meal of rice together, Parvana, a tiny figure walking down the staircase in Kabul; the backdrop of the family home as night turned to day, and back to night. What symbolism or significance did that repetition hold for you? Or that you hoped your audience would take from it?
The film has themes of the chaos brought about through conflict. I really feel in times of chaos, establishing or re-establishing a routine as quickly as possible keeps people sane. Those emotional beats in the film were some of the first drawings in my notebook, things that make one feel better; a shared meal, napping beside a sleeping child, sitting in a crowded spot and watching the world go by with a friend. Life is chaos and our routines are ways of dealing with it.
The moment where our imposing Taliban soldier shows his humanity through a simple stop in hand movement, nearly broke my heart. What can you tell us about framing and subtlety for the film? Any cropped moments that you hold particularly close to your heart?
The idea of peeling fruit came from an Afghan man describing memories of a market place to me; the way prayer beads are held in cusped hands behind one's back, how the gaze would not be held but rather the deepest truths revealed when people aren't looking at each other. From there I had great arguments with Julien Regnard, our head of story, about how much reaction Razaq should have on the news Parvana reveals in the letter he cannot read. Julien is a master of the understated and his film Somewhere Down the Line is beautiful evidence of that. I do think this moment in The Breadwinner, because of all of these things and because Fabian Erlinghauser, our animation director discovered the pause Razaq makes as he gets up, betraying his distraught state, makes it one of my favourite in the film. I also love Zaki's reaction when Parvana cuts her hair, he reminds us that he is a toddler, reacting like toddlers the world-over to a stranger entering his house.
Sound plays an important part in the film. What can you tell us about the voice casting, sound effects and soundtrack for the film?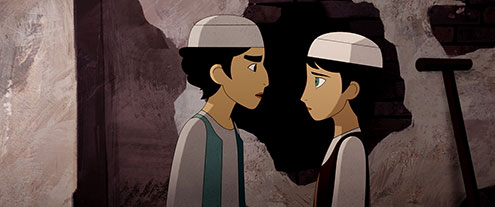 We had an incredibly giving, talented and trusting cast. They didn't record together, I wanted to control the amount of energy Saara Chaudry and Soma Chhaya released as their characters, making sure that they always sounded like kids who worked long hours of manual labour. That made all the actors jobs more difficult, not having each other to bounce off, but it gave me more flexibility in the sound edit. Kawa Ada, who plays the part of Razaq, also worked as dialect coach on the film, was a great guiding force for me as a director. He is an accomplished playwright and his sensibilities, particularly as a young man whose family had left Afghanistan at a time of conflict helped guide the film's compassion. Sound design was created for the film by JR Fountain. He began putting ideas across as we reached the halfway mark with animation and really thought deeply about how to join the themes of the film together. The sound of the Red Cloud being made of tanks, planes and war machines helped bind the film together. He never resorted to 'cartoon' sounds but 'invented the wheel' every time I asked him to rethink an element of the film. He and veteran sound mixer Frank Morrone were incredible to watch at the mix. I asked Mychael and Jeff Danna to not tell the audience how to feel but to hold them when they feel. This led to the more traumatic moments in the film being led by sound design and the moments afterward being led by score. The Imaginary world score was quite musical with lots of traditional Afghan instruments being used. The climax of the film is particularly beautiful, marrying the score and sound design together in a way that feels like a dance between two worlds. Mychael and Jeff had their jobs cut out for them, recording musicians and vocals from around the world as they built the demos. The girls' choir, whose voices form part of the sound track, were recorded in Kabul with Mychael and Jeff listening in from L.A. I think this film uses technology brilliantly to bring the work of so many musicians, artists and animators together from different locations.
Through clever and creative framing, a captivating soundtrack, and shadow-play, you found ways to depict violence truthfully, but in a way that made it possible to watch. Was there anything you wanted to depict originally, but just couldn't find a way to?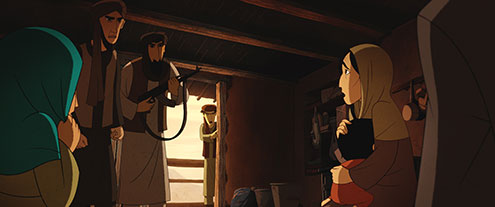 No, I always knew we had to balance the violence in the film and that we could never show things like the Talib holding up a rope strung with severed hands as described in the book. Trying to find the place where you are not diminishing the experiences and testimony of real people, while still trying to stop your audience from emotionally disengaging from the film, was a constant balance. As the film traveled through departments, from storyboard to animation to composite and sound, we constantly readjusted to try to keep our audience engaged. Knowing that adults would be tense from the moment they walked into the theatre to watch a film about conflict, was also something we had to consider.
Who is your intended audience for the film? What questions do you hope it raises in them?
The film is for the same audience as the book, so children from the ages of 10 upwards and adults. If the film forms part of conversations, between generations of Afghan families or in classrooms and homes around the world then that's great. At the end of the day though — this is just a film about a young girl and her love for her father. We didn't make a message, we made a film, a story with characters who entertain albeit in a bittersweet way.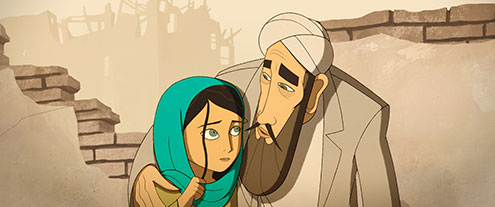 After the press junkets are complete, the screenings and awards ceremonies are wrapped, and a well-deserved vacation is thoroughly enjoyed, what's next? Is there a new project that's piqued your interest or brewing steadily in the back of your mind?
Yes, we're continually developing new TV series and films with like-minded partners.
*And I have to ask, what's the story behind the woman and the goat? That moment of levity was absolutely brilliant! Based on a real folktale? Or creative genius at play?
Anita Doron looked at what Afghan stories had in common with stories from where she comes from and around the world. The goat woman was an apricot picker I think before storyboard and finding the humour is always a play between script, storyboard, voice performance, edit, animation, music and sound design. Many geniuses with whom I have had the pleasure to work with.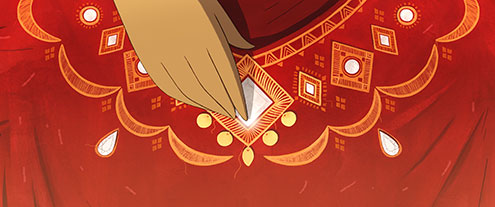 As Parvana's father so beautifully put it in the film, "Raise your hearts, not your voice." The Breadwinner does just that. With thoughtful moments, honest interactions and contrasting depictions of vulnerability and resilience, it doesn't shout us down with an opinion. Instead it appeals to our humanity and leaves us space to reflect and connect.
The Breadwinner theatrical release begins in the U.S. starting November 17th and in Canada starting November 24th.
All images © Elevation Pictures. All Rights Reserved.
| | |
| --- | --- |
| | Jessica Fernandes is an adventurer and wordsmith based in Vancouver. She enjoys spreading appreciation for the arts through stories and encounters with inspiring creators. |


© 2023 · Spark CG Society