INTERVIEW 2017
by Ian Failes, Spark CG Society
January 26, 2017
Keeping It a Little Unreal for
A Series of Unfortunate Events
The new Netflix series, A Series of Unfortunate Events, based on the Lemony Snicket children's novels, is already receiving rave reviews. Set in a slightly hyper-real world where the Baudelaire children are orphaned and placed in the foster care of their distant relative Count Olaf (Neil Patrick Harris), the Netflix show has been praised in particular for its over-the-top visuals and stylized look. One visual effects studio helping to realize that tone is Vancouver-based CVD VFX.


Watch a breakdown clip by CVD VFX for A Series of Unfortunate Events.


CVD is a new VFX studio, founded in mid-2015 by experienced visual effects supervisor Chris van Dyck, but the company has already contributed to several episodic television shows, films and computer games.
On A Series of Unfortunate Events, CVD was brought on mid-way through production and worked with visual effects supervisor Craig Hayes and Jon Cowley to produce around 100 shots.
One of the first challenges CVD VFX had to deal with on the show was fitting its work into the desired look. "It's a hyper-real stylized world," says van Dyck. "You generally want to start by making things look photo-real but then you quickly had to depart from that. We ended up several shots that looked pretty surreal, as opposed to photoreal."
A shipping yard scene of a berthed cruise liner was one such visual effect requiring a different approach. "It was much more painterly," notes van Dyck. "Our matte painter Romain Bayle painted over some geometry based off of the real SS United States, and brought it into the world of Lemony Snicket with sepia tones and stylized clouds, too. It has that surreal, nostalgic tone."
A similar approach was required for a street scene featuring the narrator, Lemony Snicket (Patrick Warburton). These shots, filmed on partial sets, were more complicated because they also contained a 'pseudo-timelapse' effect as the scene goes from night to daytime.
"Not only were we painting it up in 4K," says van Dyck, "but we were also painting different reflections and different highlights for the two different environments and then trying to animate through these environments. We basically had to paint it up twice."
That shot wasn't the only tricky one. A shot of the children in the back of a truck driving through a forest required careful augmentation, too. The kids were filmed on a truck piece against greenscreen, while the background was shot separately.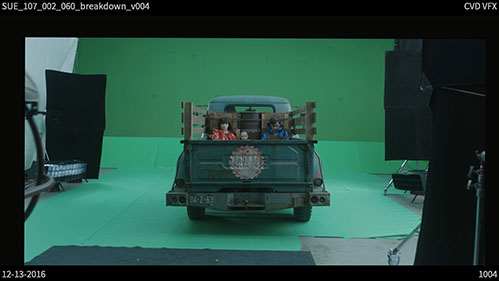 "We had to not only matchmove the plates of the backgrounds but also the foregrounds, which had different camera moves," explains van Dyck. "We reconciled and found a balance on how everything fit together, and then re-built and re-stitched the background to match the lens. We also built out 3D tires and had them spinning and kicking up dust and dirt. It's a very dappled scene, from the trees, and there's actually some baby face replacements in there, too."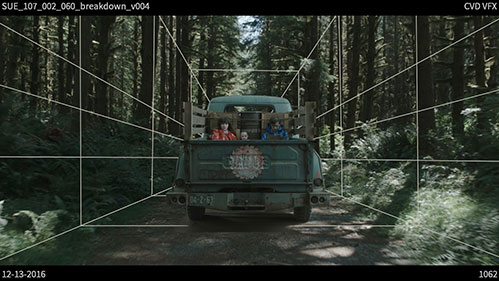 A boat sinking sequence also required manipulation. The work was indicative of CVD VFX' invisible work on A Series of Unfortunate Events. "It's mainly practical footage of water effects they shot practically, and a boat partially sinking," describes van Dyck. "It just wasn't enough, so with those elements we comp'd them over and tried to make each element sink in at a different moment, like the mast and other parts. There was lots of colour correction, masking and re-animating of the original plate."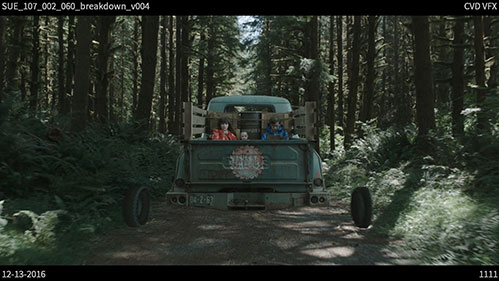 For van Dyck, the opportunity to work on A Series of Unfortunate Events was a fun one, and, as mentioned, a change from the usual push for absolute photorealism. "I liked in particular working on some of the lookdev for the skies, which were like cotton ball skies. Sometimes I could even use some photos I'd personally shot and fit them into the world. And I found that if you do it in this painterly way it can really strike a connection with the audience."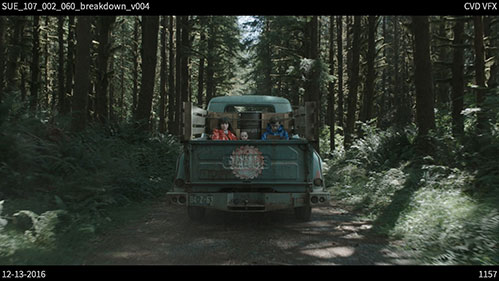 For more information about CVD VFX, check out their website: www.cvdvfx.com
All images and clips copyright 2017 Netflix. All Rights Reserved.
| | |
| --- | --- |
| | Ian Failes is a Sydney-based writer specializing in visual effects and animation. He also collects memorabilia from the film Speed. Follow him at @vfxblog. |


© 2023 · Spark CG Society