INTERVIEW 2016
by Ian Failes, Spark CG Society
September 23, 2016
Leveraging Live-Action and VFX for the Animated Storks
It's been a big year already for Sony Pictures Imageworks. The Vancouver and Culver City-based studio was behind some of the biggest visual effects-heavy films released, including Ghostbusters and Suicide Squad. And on the animation side it was also responsible for The Angry Birds Movie. Its latest foray into feature animation is Warner Animation Group's Storks, a story that sees a stork and his human friend trying to deliver a new baby in a world no longer involving baby stork deliveries.
So how does Imageworks manage to straddle so many live-action visual effects and animated feature projects? SPARK spoke to animation supervisor Joshua Beveridge and visual effects supervisor Dave Smith about how some of the studio's live-action experience and work on its previous animated features helped make Storks possible, and how skills learned from each type of film carry into the other.
Taking VFX in New Directions
Imageworks knows how to do photoreal and beautiful CG. All of that expertise was necessary to achieve Storks' sprawling landscapes, its characters and effects. But the movie was vastly different than a live-action film — directors Nicholas Stoller and Doug Sweetland were after a look as if someone had hand-drawn the characters (who happen to be a mix of humans, birds, wolves and more).
Does that mean that Imageworks' visual effects experience was unnecessary? Not at all. VFX supervisor Dave Smith notes that his experience in dealing with live-action plates and digital characters on films such as the two most recent Spider-Man outings turned out to be extremely useful.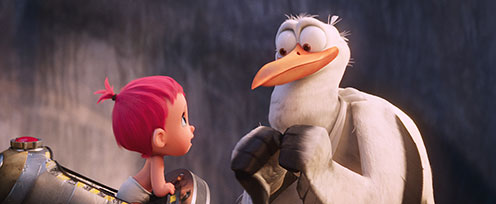 "Usually in film-based movies with live-action plates," he says, "there's a lot of integration of effects into the plate and I tried to bring some of that expertise in how it might look if generated on film. We do have film grain and optical effects in Storks to give it a tangible quality and we try to give the surfacing and lighting a physical feel without going too far out of the cartoony world. We make it cartoony and fun looking and give it a tangible quality, as if that world exists out there somewhere."
That tangible quality extended to areas such as the stork feathers in the film. On a typical Imageworks project, a physically-based feather and hair system might be employed for the ultimate photorealistic birdlife. However, the directors requested the birds only have feathers that were representative of what feathers might look like in a cartoon sense, again as if someone had simply drawn them.
"When someone draws a wing they don't draw every single feather — it just had to 'feel' right," outlines animation supervisor Joshua Beveridge. "We had to engineer a whole wing system that could be a lot of shapes and could just end up looking how someone would draw it. That meant it was constantly malleable. Sometimes it's a wing and folds into a streamlined simple shape and we don't see all the individual detail."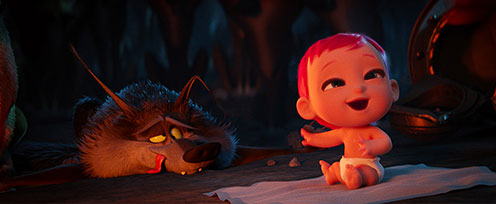 Other areas where Imageworks' VFX experience came in handy were in water effects sims and in generating hair and clothing. Again, however, this was scaled back to suit the desired style of Storks. "For our clothing," discusses Smith, "we were able to build bold shapes that are simulated to be representative of the way a cartoonist would draw. A few little lines here and then can show that pants are folding or breaking at the right point and that's what we tried to bring into the 3D world for cloth and hair."
Animating Differently
Imageworks has had significant experience in making characters significantly squashy and stretchy with its Cloudy and Hotel Transylvania films. Storks required some of that approach, too, where animators could add certain new shapes on the fly and sculpt particular shapes on a moment to moment basis. The final animation approach was not as extreme as those other films, but by dialling it up only at certain points, Beveridge notes that there was often more 'punch' when a character went into squash and stretch poses.
The animation supervisor, who has worked on live-action VFX films such as The Amazing Spider-Man 2 as well as several animated features, suggests there are some clear differences between working on either type of film.
"The amount of time it takes to get animation done isn't different, nor is the amount of work, but where you're spending your time is completely different. Getting the weight and physics and bones and muscles of the character in a visual effects movie to move in an appealing way — that ends up being extremely labour intensive and there's a very specific taste level you have to bring it to."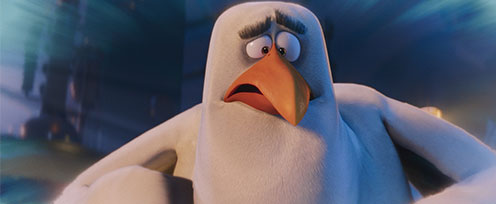 "You don't do that nearly as much in the cartoon world," adds Beveridge. "We spend a lot more time posing, just getting the character to be designed into a shape. One of the differences is facial controls, too. As an animator you end up spending a lot more time in performance of the face and sculpting and tweaking in cartoons than in VFX movies. In the cartoons I'm much less worried what their pelvis is doing, say, or what their rib cage is doing. Is every frame appealing? Does it look like a drawing? That ends up informing everything."
And even though it may just end up looking like a drawing, so much work has of course gone on behind the scenes by the artists at Imageworks to convey that simplicity. You're just not meant to notice.
| | |
| --- | --- |
| | Ian Failes is a Sydney-based writer specializing in visual effects and animation. He also collects memorabilia from the film Speed. Follow him at @vfxblog. |


© 2023 · Spark CG Society