MASTERCLASS: JOHN MUSKER




TOP LEARNING OPPORTUNITIES WITH INDUSTRY MASTERS


March 23, 2019


ONLINE RESERVATIONS ARE NOW CLOSED.
TICKETS AVAILABLE AT THE DOOR.
In the world of animation, John Musker's name is associated with some of the greatest films Disney has ever created for the screen, including The Little Mermaid (1989) Aladdin (1992) and most recently Moana (2016), Disney's 56th animated feature film. Critically acclaimed, Moana, directed by John, received two Academy Award nominations in 2016 for Best Animated Feature and Best Original Song.
Over the decades, Disney's classic films and beloved characters helped forge a golden age, a renaissance in animation. John Musker has been part of that renaissance since he first became an animator on The Fox & the Hound in 1981.
During his 40-year career at Walt Disney Animation Studios, John honed every aspect of his art, working as an animator, storyboard artist, writer, director, and producer. Today, retired from Disney, John continues to create and is currently animating his own short film by hand.
Take part in this professional development opportunity to learn firsthand from an industry master who possesses the skills, experience, and inside track on "Getting Dreams to Screens."
Schedule:
| | |
| --- | --- |
| 8:30 AM | Doors open |
| 9:30 AM | Masterclass begins |
| 10:45 AM | Break |
| 11:00 AM | Masterclass continues |
| 12:30 PM | Lunch break |
| 1:30 PM | Masterclass continues |
| 2:45 PM | Break |
| 3:00 PM | Masterclass continues |
| 5:00 PM | End of Masterclass |
Saturday - March 23, 9:30 AM
MASTERCLASS
STORYTELLING IN ANIMATION: GETTING DREAMS TO SCREENS
Reliance Theatre • Emily Carr University of Art + Design • 520 E. 1st Ave • Vancouver
Moderator: David Burgess with John Musker
Observations about developing and communicating ideas, stories, and characters and techniques for realizing them onscreen.
BIOGRAPHIES
David Burgess
Animation Supervisor // Animal Logic
(The LEGO Movie 2: The Second Part, Trolls, Turbo, Megamind, Tarzan, The Lion King)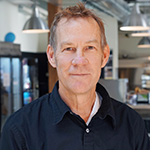 Dave has almost three decades of experience in the animation industry, working on some of the most iconic 2D and CGI animated films of our time. Dave is currently the Animation Supervisor at Animal Logic's Vancouver studio and has recently wrapped on The Lego Movie 2: The Second Part.
In 1991, Dave started at Walt Disney Feature Animation where he was an Animator and Supervising Animator on many of their most successful 2D films including Beauty & The Beast, Aladdin, The Lion King and Tarzan.
In 2001, he switched his pencil for a computer and started at PDI/DreamWorks, working as an Animator, Supervising Animator and Head Of Character Animation. His credits during this time include Shrek 2, Madagascar, Over the Hedge, Megamind and Trolls.
Dave graduated from Emily Carr University of Art + Design in Vancouver with Honours in Animation.
John Musker
Director, Writer & Producer
(Moana (2016), Princess & the Frog (2009), Aladdin (1992), The Little Mermaid (1989))

John Musker is a 40-year veteran of the Walt Disney Animation Studios where he was an animator, storyboard artist, writer, director, and producer.
John grew up in Chicago, Illinois as part of a large Irish Catholic family. He followed up his English Literature studies at Northwestern University in Evanston, Illinois, with two years at CalArts as part of the new Character Animation Program in the mid-Seventies, where he learned not only from Disney and Chouinard veterans like Elmer Plummer, Bill Moore, and Ken O'Connor, but also his fellow classmates there, many who have gone on to direct distinguished films: folks like Brad Bird, Henry Selick, John Lasseter, Tim Burton, and Chris Buck. At Disney, he was mentored by Eric Larson, the veteran animator and one of Disney's fabled "Nine Old Men," who brought Figaro the cat to life in Pinocchio, among many other characters in his distinguished career.
John became an animator on The Fox & the Hound (1981), and later joined Ron Clements to direct The Great Mouse Detective (1986) alongside Disney veterans Burny Mattinson and Dave Michener. Ron and John paired up to write and direct The Little Mermaid (1989) which John co-produced with Howard Ashman. Ron and John also wrote and directed a number of subsequent animated features including Aladdin (1992), Hercules (1997), Treasure Planet (2002) and The Princess & the Frog (2009). John's most recent project was Moana (2016), which he once again directed with Ron Clements, along with co-directors Don Hall and Chris Williams.
John retired from Disney Feature Animation in the spring of 2018, and is currently animating by hand his own short film, as well as chasing around his nineteen-month-old granddaughter, Lucy.
John resides in La Cañada, California, with his wife Gale, a former researcher at Disney, not far from his three grown children Patrick, Jackson, and Julia.

© 2021 · Spark CG Society