MASTERCLASS: SANDRO CLEUZO




TOP LEARNING OPPORTUNITIES WITH INDUSTRY MASTERS


September 14 - 15, 2019


MASTERCLASS IS NOW SOLD OUT.
RUSH TICKETS AVAILABLE AT THE DOOR.
THANK YOU!
Date: 14 + 15 September 2019
Time: 10 AM – 5:30 PM
Admission: $150
Capilano University
Nat & Flora Bosa Centre for Film & Animation
2055 Purcell Way
North Vancouver, BC
OPPORTUNITY TO LEARN AT THE FEET OF A MASTER
It is with great excitement that the Spark CG Society presents a 2-day Masterclass with the incredible master of Animation and Character Designer, Sandro Cleuzo.
An animation veteran, Sandro Cleuzo has worked at all the best animation studios in the industry. His work can be seen in such films as The Secret of Nimh, Anastasia, Tarzan, Fantasia 2000, Enchanted, Angry Birds, and many, many more.
Over the course of two days, you will learn the step-by-step process that Sandro Cleuzo uses to create great-looking characters as well as bringing them to life, animating them. This very special 2-day Masterclass will help every artist to learn the skills, tips and secrets on Injecting Personality Into Character Design & Animation.
Admission includes boxed lunch for both days, taxes and transaction fees. Discount codes and group discounts are only available online. Regular rates in effect at the door.
ATTENTION: Rush tickets at the door don't include boxed lunch for the weekend.
Schedule (both Saturday & Sunday):
| | |
| --- | --- |
| 9:15 AM | Doors open |
| 10:00 AM | Masterclass begins |
| 11:15 AM | Break |
| 11:30 AM | Masterclass continues |
| 1:00 PM | Lunch break |
| 1:45 PM | Masterclass continues |
| 3:15 PM | Break |
| 3:30 PM | Masterclass continues |
| 5:30 PM | End of Masterclass |
Note: Schedule and descriptions are subject to change without notice. Please, check this page for last-mimute updates. Make sure to join our mailing list for info on future events.
Saturday - September 14, 9:30 AM
MASTERCLASS
INJECTING PERSONALITY INTO CHARACTER DESIGN & ANIMATION

with Sandro Cleuzo
DAY ONE: DESIGN CLASS
BIOGRAPHY
Discussion of Sandro's 30 years + career and the projects he has worked on as an animator and designer.
The artists that influenced him and why.
DESIGNING PERSONALITY
Who is the character that you have to design?
Talking about different styles and the particular style chosen for this workshop.
Research.
DESIGN EXPLORATION
Design principles about shapes, silhouette, straights against curves, line of action, etc.
Exploring the characters by sketching.
FINAL DESIGN
Putting the final design into a turn-around rotation.
Developing the character further with poses and expressions.
DAY TWO: ANIMATION CLASS
PRINCIPLES OF ANIMATION
Squash and stretch, overlapping, spacing, timing, etc.
A discussion with cited examples from animation clips.
ACTING FOR ANIMATION
Analyzing acting patterns.
How and why a character should act in a particular way in a specific scene.
Planning your shot. How to start?
LET'S ANIMATE!
The First Pass. Drawing quickly & rough to put down your first impressions.
How to go from pose to pose versus straight ahead.
FINAL ANIMATION
After the first pass, the need to "tie it down on model."
Finding your keys, breakdowns and inbetweens.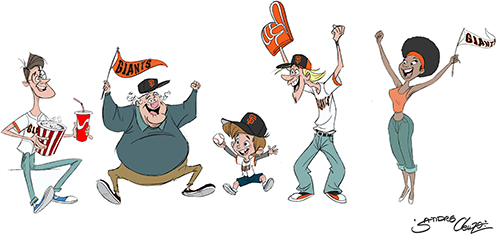 BIOGRAPHY
Sandro Cleuzo
Character Animator & Character Designer // Warner Animation Group, SPA Studios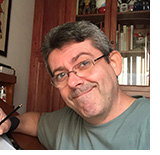 With no formal art or animation school training, but possessing a love for animation and a keen desire to draw, Sandro Cleuzo taught himself to animate and now stands as one of the great animators and character designers of our day.
As a self-taught teenage artist, he was hired as an intern at one the most prestigious animation studios in São Paulo. The six years there allowed him to continue learning and growing on the job, while inbetweening and animating and freelancing as a comic book artist in his spare time. In 1990, at the age of 19, Sandro moved to Dublin, Ireland where he worked at Don Bluth Studios for 4 years, then 2 more years in Phoenix, Arizona when they set up Fox Animation Studios. He would serve as the Directing Animator on the feature Anastasia. In 1997, Sandro began working at Disney Features as an animator on Fantasia 2000 (the Firebird and Tin Soldier sequences), The Emperor's New Groove (Lead Animator), Tarzan (Animator) and Home on the Range (Supervising Animator).
As a talented and affable artist, Sandro is highly sought after to animate on major projects including Disney's The Princess & the Frog, DreamWorks' Kung Fu Panda: The Secrets of the Furious Five, Duncan Studio's The Legend of the BoneKnapper and KFP: The Secrets of the Masters. He has also freelanced on several TV and feature film projects including Enchanted, The Proud Family, Asterix & the Vikings, Chico & Rita, among others.
Other special assignments Sandro has animated on include, DreamWorks' Me & My Shadow, (Cancelled) a KFP short called The Secrets of the Scrolls, new sequences for the special edition of Brad Bird's The Iron Giant and design work for LAIKA on Kubo & the 2 Strings and most recently Missing Link.
Most recently, Sandro has been designing characters for many films including the two Angry Birds movies, Scooby Doo (coming soon) and animating on Netflix' hand-drawn feature Klaus.
In February, Sandro won the prestigious 2019 Annie Award for best animation for his work on Disney's Mary Poppins Returns.

© 2021 · Spark CG Society