WEBINAR: 13 JANUARY 2022




Presented by CoSA VFX


January 13, 2022


FROM ANOTHER WORLD: BEHIND THE FX OF RESIDENT ALIEN
Syfy's Resident Alien proved to be a fan favourite when it premiered earlier this year. The series, starring Alan Tudyk in the lead role of "Dr. Harry Vanderspeigle," follows an alien who has taken on the identity of a small-town Colorado doctor.
CoSA VFX is the primary visual effects vendor for the 10-episode series and throughout the first season run, the studio provided everything from environments to CG characters and everything else in between.
On Thursday, 13 January at 6:30 pm PST, join the CoSA VFX team as they take us behind the scenes of the first season of the series including the impressive work of marrying practical with CG for the lead character.
Event is free but registration is required.

Thursday - January 13, 6:30 PM
WEBINAR
FROM ANOTHER WORLD: BEHIND THE VFX OF RESIDENT ALIEN
Presented by CoSA VFX
Moderator: Marina Antunes with Adam Benson, Brian Fisher, David Beedon, Jose Maria de la Puente & Roger Vizard
Register to receive the Zoom link to this live event.

BIOGRAPHIES
Adam Benson
CG Supervisor // CoSA VFX

Adam Benson is one of CoSA's CG Supervisor. Currently based in Los Angeles, California. He has had a wild and varied career in almost every aspect of film and television production, working in everything from games and TV to films and commercials. During his time at CoSA he has worked on shows such as Resident Alien, The Unbearable Weight of Massive Talent and Superman and Lois.
Before joining CoSA, Adam spent several years working for ASC as a CG Supervisor, Pipeline Supervisor and General Mad Scientist. His work includes such shows as Stranger Things, Fear the Walking Dead, The Belko Experiment, The Mist, Green Lantern and many others. Throughout his career he has worked as a Senior CG Generalist, Rigger, Lighter, Compositor, and Dynamics artist, and spent much of his early days working on set as a Sound Man, Camera Operator, and Grip, and in post-production as an Editor.
Adam started working in film and CG in 1999, with an earlier career in graphic arts and programming that began in late '93 and only switched gears when he was introduced to 3D Studio Max after a failed attempt at becoming an astro-physicist.
Apart from his work in film, Adam is a semi-professional musician with several albums and songs published, and has done scores and music for a few TV shows and short films. He is a published author with two novels out, a screenwriter for episodic animated series, and is as well, a very talented chef and grill master.
Brian Fisher
VFX Supervisor // CoSA VFX

With a career spanning over 2 decades, and more than 50 feature film and episodic television series credits to his name, Brian Fisher has experience in every discipline of the visual effects industry. Currently a VFX Supervisor at CoSA VFX, Brian got his start producing some of the first CGI to grace television screens for shows like Star Trek: Voyager and Star Trek: Deep Space Nine. He has contributed to Oscar-winning features such as Avatar, King Kong, and most recently, Blade Runner 2049.
In 2001, Brian co-founded "Realm Productions," a boutique post-production and visual effects studio. Catering to the commercial and music video industries, Realm contributed cutting edge VFX for artists such as Mick Jagger, Britney Spears, Usher and Pink, to name a few.
His latest projects include DC's Swamp Thing, Marvel's The Gifted and the SyFy channel's upcoming Resident Alien. A Los Angeles native, Brian made his way to Vancouver in 2007, which he now calls home.
David Beedon
Partner, VFX Supervisor // CoSA VFX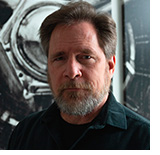 David is a pioneer of the visual effects industry, co-founding production boutique, Motion City Films in 1987 which provided VFX, motion graphics and production services for commercials, music and corporate videos. Transitioning from compositing to CG, he segued into feature film visual effects working on notable projects, including The Chronicles of Narnia: The Lion, the Witch and the Wardrobe (2005), Elektra (2005) and The Guardian (2006). Shortly thereafter, Beedon and 3 other like-minded talents joined forces, and in 2009 created their own studio, CoSA VFX.
Among his many credits, Beedon was nominated for a Primetime Emmy in 2014 for his work on Almost Human. He has also been nominated for two Visual Effects Society (VES) Awards — Almost Human in 2014 and Marvel's Agents of S.H.I.E.L.D. in 2015.
David has just wrapped VFX Supervision for the multi-vendor show Resident Alien, and he was the Visual Effects Supervisor and 2nd Unit Director for Netflix' Lucifer which wrapped late last year.
Jose Maria de la Puente
VFX Producer // CoSA VFX

Jose Maria de la Puente is one of CoSA's talented Senior VFX Producers. He is currently based in Vancouver, where he has produced various projects for studios like Netflix, ABC, NBC, The CW and the Syfy Channel.
Prior to joining CoSA, de la Puente was working at DNEG as a VFX Producer, where he worked on such projects as Sony Picture's Venom and Ant-Man and the Wasp for Marvel Studios. He also was a VFX producer on the recently released feature Dune for Legendary Entertainment.
A native to Spain's North Coast, Jose moved to London after a few years working on 2D and 3D Animation to kickstart his VFX journey working for MPC on the Academy Award-winning feature The Jungle Book. Since then, he is credited as being the in-house production lead on multiple films including King Arthur: The Knights of the Round Table, Assassin's Creed, Justice League, and The Legend of Tarzan amongst others.
With over 12 years of experience, Jose is a multidisciplinary VFX producer who has also worked in video games and in TV, and has also taught at the Spanish 'University for Technology and Digital Art' (U-TAD) as a 'Animation and VFX Production' professor. Jose also has a passion for writing and directing, and, in 2012, his short film 'My Struggle' was shortlisted for The Academy's 'Best International Short Film (Live Action)' Award.
Marina Antunes
President // Spark CG Society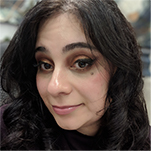 Marina has been writing and discussing film for over 15 years, first on a personal blog followed by a decade long tenure on the now retired Row Three. In 2008, she joined the writing staff at Quiet Earth, becoming Editor-In-Chief in 2014, a role she still holds. Over the years, she has also produced and hosted a number of podcasts including Before the Dawn, a long-running podcast on the Twilight franchise, Girls on Pop, a podcast on film and popular entertainment from women's perspective and After the Credits, bi-monthly film podcast with nearly 300 episodes.
Marina is a member of the Online Film Critics Society and the Alliance of Women Film Journalists, is the Vice President of the Vancouver ACM SIGGRAPH chapter and has served on juries for several film festivals including DOXA, St. Louis International Film Festival, and the Whistler Film Festival. She joined the Spark CG Society as Festival Director in 2014.
Quiet Earth
After the Credits
Twitter
Facebook
Roger Vizard
Senior & Lead Animator // CoSA VFX

After graduating Trinity High school in 1983, I ventured off to Sheridan College in Toronto, Canada to study my passion, traditional animation. While still a student, I was hired by Richard Williams in London, England, to work on a little film called Who Framed Roger Rabbit.
This lead me too my first real animation job at Sullivan Bluth studios in Ireland, where I worked on All Dogs Go to Heaven and Rock-A-Doodle. I was once again called up by master animator Richard Williams, who took me in as his assistant to work on his personal project called The Thief and the Cobbler. I was relocated to Los Angeles, California in 1993, where we finished production on the movie. After completion, I was enlisted to work on another personal project, Cats Don't Dance.
While living and working in Los Angeles, Warner Bros. had started up its own operation to compete with the likes of Disney and DreamWorks. By 1996, I was fortunate enough to work on two amazing feature films, The Iron Giant and Osmosis Jones.
By 2000, I had finished The Tigger Movie. Traditional animated films were becoming a thing of the past, and computer generated animation started taking a foothold in the market place. It was only a matter of time until I switched gears to learn CGI, seeing the amazing potential of the types of films that can be made with this technology.
I jumped in feet first as a senior CG animator for Sony Pictures Imageworks. My first production in this new role was on Stuart Little, which spawned the short film Attack of the ChubbChubbs, winning an Oscar in 2002. The floodgates opened and the next thirteen years were filled with more movies than I ever thought could be done in a lifetime. Some of them include The Polar Express, The Chronicles of Narnia: the Lion, the Witch and the Wardrobe, Open Season, Surf's Up, Spider-Man 1, 2 and 3, Tim Burton's Alice in Wonderland, The Amazing Spider-Man 1 & 2, Cloudy With a Chance of Meatballs> and Sam Raimi's Oz: The Great and Powerful.
In 2015, I was fortunate enough to work at Bad Robot Productions, JJ Abrams' house of creativity. working on Star Trek Beyond, 10 Cloverfield Lane and Star Wars: The Force Awakens. It was a dream come true.
All these wonderful projects and working with such talented filmmakers in this business I attribute to all the long hours I spent traditionally animating by hand. It taught me discipline and gave me the drive to follow my dreams.
But it all starts somewhere, and I can trace my strong work ethic to being a student at Trinity High, entertaining my fellow students as a staff member of the "Palentier" school paper drawing cartoon strips. It was the beginning of my life's passion.

© 2022 · Spark CG Society