WEBINAR WITH TEUS MEDIA




Celebrating Innovation & Inspiration in Computer Graphics


May 27, 2021



For Welcome to Chechnya, American reporter, author, and documentarian David France used hidden cameras and cutting-edge digital post-production techniques to document the daring escape of LGBT Chechen refugees from Russia during the anti-gay purges of the late 2010's.





Thursday - May 27, 6:30 PM
WEBINAR
WELCOME TO CHECHNYA: PROTECTING IDENTITIES WITH DIGITAL VEILS

Moderator: Larry Bafia with Ryan Laney
This presentation covers a broad range of topics around the digital veils created for the documentary, Welcome to Chechnya. After providing some background on the inspirations for the work, the talk relates some issues of working on documentary productions and then dives into practical details of merging unproven technology with existing visual effects workflows. This high-level talk focuses on sharing knowledge and lessons as we learned to adapt neural networks and machine learning techniques into the art of visual effects.
In Canada, watch Welcome to Chechnya on Crave.
In the USA: watch on HBO

BIOGRAPHIES
Larry Bafia
Director, Master of Digital Media Program // Centre for Digital Media
(Mission Impossible II, Antz, Batman & Robin, Mars Attack!)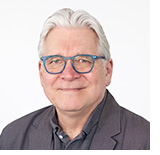 As Commercial Animation Director at PDI/DreamWorks, Larry directed commercials for top clients, Coca-Cola, Sega, Intel, Kraft, Target, Circle K, and Saturn. He was Sequence Lead Animator on Antz, Batman & Robin, A Simple Wish, and on the effects team for Mission Impossible II, Forces of Nature, and The Peacemaker. At Warner Brothers, Larry was Lead Animator for the Stop-Motion Division on Tim Burton's feature, Mars Attacks.
Larry started his stop-motion and Claymation career at the Will Vinton Studios, working on the California Raisins, Michael Jackson's Moonwalker, The Globeheads and commercial projects, then moving into CGI, animating characters for Chips Ahoy!, Raid and Fanta.
While he was Department Head of Animation and Visual Effects at the Vancouver Film School, the program was ranked 5th in the world by 3D World magazine.
Ryan Laney
Founder, Visual Effects Supervisor, Developer // Teus Media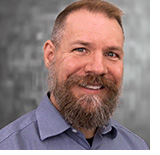 Ryan Laney is a Visual Effects Supervisor and developer who loves using technology to support storytelling. He learned the trade from working with outstanding teams and on fun and challenging projects at leading VFX studios like Manex Entertainment, Industrial Light & Magic, Digital Domain, and Sony Pictures Imageworks.
Regularly mixing existing techniques with new developments, he is often crafting solutions across disciplines, helping to produce effects tailored to each film's unique needs. He has developed tools and supported teams for many award-winning projects such as clouds and water effects for The Aviator, Goo in Spider-Man 3, outer-space effects for Zathura, and energy systems for Green Lantern, robots in G-Force, and a custom cloud renderer for Hidalgo.
At Teus Media, Ryan is exploring visual effects solutions for documentary filmmakers. His maiden voyage into this area was with the digital veils he developed for the documentary Welcome to Chechnya. The work earned the film a Visual Effects Society Nomination for Supporting Visual Effects and a spot on the Oscars' VFX Shortlist.
This recent focus on machine learning techniques has led to working with human rights groups to help make these identity-protecting tools available to the productions that need them.

© 2022 · Spark CG Society