PRESENTING WILDBRAIN STUDIOS



February 18, 2021



The world's most iconic dog is ready for his close-up. Come hear from the crew at WildBrain Studios who brought back Snoopy, Woodstock and the whole Peanuts gang in The Snoopy Show, premiering February 5 on Apple TV+. Learn about the surprising challenges of animating Peanuts characters, the inspiration for the series, and how a crew of passionate artists brought Charles Schulz's beloved characters back to life. We'll explore the making of the series from development through design, storyboarding, animation and even music.





Thursday - February 18, 6:30 PM
WEBINAR
MAKING OF THE SNOOPY SHOW

Moderator: Kimberly Small with Behzad Mansoori-Dara, Joseph Holt, Krista Porter, Mark Evestaff, Mélanie Daigle, Rob Boutilier & Ryan MacNeil

(SEE ABOVE)




BIOGRAPHIES

Behzad Mansoori-Dara
Director // WildBrain Studios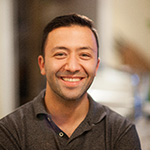 Behzad Mansoori-Dara is a director and cinematographer with over 15 years of experience. He began his career as an animator and worked his way up from animation to previz, layout, supervising and directing. Behzad has managed teams on multiple projects and pipelines, on some of the biggest franchises in the world such as Pixar's Toy Story and Cars, Sony's Spider-Man and the LEGO movie franchise. Having directed on WildBrain's Slugterra: Return of the Elementals and Endangered Species, he rejoined the studio in 2019 as an animation director on the Emmy-nominated production Peanuts in Space: Secrets of Apollo 10. Behzad is currently serving as co-director on WildBrain's Snoopy in Space, which has also received an Emmy nomination, as well The Snoopy Show.
Joseph Holt
Art Director // WildBrain Studios

Joseph Holt is a graphic artist based in Glendale, California. After graduating from Cal State Fullerton, he began a career in animation. He has worked on many productions for several studios including Warner Brothers, Nickelodeon, Cartoon Network, Sony and Disney. In recent years, he art directed the first three seasons of the Mickey Mouse Shorts production for Disney. He also art directed and created production artwork for Mickey & Minnie's Runaway Railway, a new ride at Disneyworld Florida, and is currently working on additional artwork for the same ride to be constructed at Disneyland, California. As well, he has done original thematic artwork for two Disney Cruise Ships. He started a new company with a business partner in Japan in 2019. The company, "J. Holt Westerly" is creating illustrations of temples in Southern Japan along with a few new mascots with a goal of working with the temples to help with tourism. COVID-19 has put this venture on hold. Currently, he is art directing WildBrain's The Snoopy Show for Apple TV.
Kimberly Small
Producer // WildBrain Studios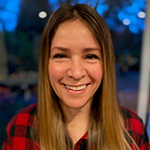 Over fourteen years ago, Kimberly Small joined the production team at Studio B Productions on Ricky Sprocket. Since then, she has worked her way through every step of the production process on shows such as My Little Pony for Hasbro and Martha Speaks until moving into producing on Pound Puppies and Hasbro's Transformers: Rescue Bots. She then transitioned to serving as Director of Production at DHX Studios (now WildBrain), using her hands-on knowledge and experience to support the 2D production teams. When Peanuts came to the Studio, Kim took on the challenge of working with one of the world's most beloved characters as Producer of both Snoopy in Space and The Snoopy Show. Kim is passionate about working with artists and is proud to be a part of the quality children's programming that WildBrain produces.
Krista Porter
Storyboard Artist // WildBrain Studios

From reading the strips in the paper to watching the shorts on TV, Krista Porter is a lifelong Peanuts fan. Since joining the Peanuts production on Snoopy in Space, Krista has worked on The Snoopy Show as a storyboard revisionist, storyboard artist and was recently promoted to storyboard supervisor. She started storyboarding in 2016 working on productions such as Cloudy with a Chance of Meatballs (the TV series), Polly Pocket and My Little Pony: Friendship is Magic. With a love and passion for storytelling, Krista is eager to explore various ways to bring words to life.
Mark Evestaff
Showrunner & Executive Producer // WildBrain Studios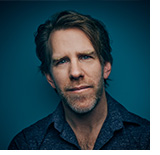 Mark Evestaff is a multi-award-winning animation showrunner and executive producer. A graduate of the MFA program at Parsons School of Design, he started his career as an associate producer at Sesame Workshop in New York City. Mark returned to his hometown of Toronto to develop and produce the animated series Jimmy Two-Shoes for Disney XD. He later developed and served as showrunner for Rocket Monkeys, which ran five seasons on Teletoon in Canada and Nickelodeon around the world. He also developed and produced Sony's animated series Cloudy with a Chance of Meatballs, which aired on Cartoon Network. Mark currently serves as showrunner and executive producer for WildBrain's Snoopy in Space, and The Snoopy Show, now available on Apple TV+.
Mélanie Daigle
Special Pose Artist // WildBrain Studios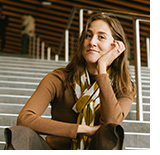 Classically trained and with 10 years of digital 2D animation experience under her belt, Mélanie is a character animator with a passion for acting and an eye for design.
Originally from a small Acadian village on the shores of New Brunswick's East coast, she moved to the Toronto area to study and graduated from Sheridan's classical animation program.
Since then, she has provided quality character animation on a wide range of TV series, supervised animation on My Little Pony: The Movie, served as animation director on the Snoopy in Space shorts, and created special poses for The Snoopy Show. Over the years, she's had the opportunity to dabble throughout the animation pipeline, from concept art and R+D work to producing complete animated promos. She's currently finding her legs as a director and gets to draw all day long at WildBrain Studios. Mélanie is also a published children's book illustrator and a member of the Society of Children's Book Writers and Illustrators.
Rob Boutilier
Series Director // WildBrain Studios

Rob Boutilier is the creator of the hit animated TV series Kid vs Kat, produced by WildBrain for YTV and Disney XD. A 25-year veteran of the Vancouver animation community, Rob began his career as a storyboard artist on the Cartoon Network series Ed, Edd 'n' Eddy for a.k.a Cartoon. He has since storyboarded for Studio B Productions on such series as Yakkity Yak, Being Ian, and Pucca, as well as supervising storyboards on Studio B's Class of the Titans, Ricky Sprocket, and Nerd Corps Entertainment's Endangered Species. Rob has also served as episodic, series and supervising director on a number of shows, including Aaagh! It's the Mr. Hell Show! (BBC), Kid vs Kat (YTV/Disney XD), Packages From Planet X (Teletoon/Disney XD), Supernoobs (Teletoon/Cartoon Network UK), Chuck's Choice (YTV) and Dorg Van Dango (Family Channel/RTE). Currently, Rob serves as series director on WildBrain's Emmy-nominated Snoopy in Space (Apple+) and The Snoopy Show.
Ryan MacNeil
Animation Director // WildBrain Studios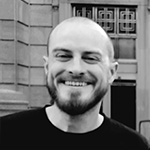 Ryan is a Nova Scotia-born animation director with fifteen years of industry experience working on projects for Disney, DreamWorks, Nickleodeon, and now Apple with The Snoopy Show. He was a 2016 Annie nominee for TV character animation and the 2017 Startoon winner. He lives in Vancouver with his wonderful wife and a passable cat.

© 2022 · Spark CG Society