WEBINAR: ANIMATING ACTION




with Arcana Studio's Skylar Zerr


November 24, 2020



Skylar Zerr, Animation Director for Vancouver's Arcana Studio, breaks down the intricate art of animating an action shot for the studio's upcoming feature film Heroes of the Golden Masks. The film features the voices of Christopher Plummer as Rizzo, Ron Perlman as Kunyi, Byron Mann as Jiahao and Patton Oswalt as Aesop, and co-stars local Vancouver actor Osric Chau as Zhu.

Heroes of the Golden Mask is an epic fantasy adventure inspired by the ancient masks of Sanxingdui and tells the story of a contemporary teenager who is magically transported back in time to a mysterious, lost city. Directed by Arcana Studio's Founder & CEO, Sean O'Reilly, the film is set for release in 2021.
This webinar is now available on-demand on our YouTube Channel.

Tuesday - November 24, 7:00 PM
WEBINAR
ANIMATING ACTION
with Skylar Zerr
(SEE ABOVE)

BIOGRAPHY
Skylar Zerr
Animation Director // Arcana Studio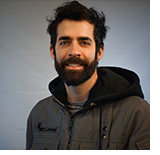 Skylar is Arcana's Animation Director and has been with the studio for 5 years. A graduate of the 3D Animation and Modeling program from Vancouver College of Art and Design, he has previously worked for Green Machine Studio, as a Freelance Commercial Camera DP, and as an Animation PA for NerdCorps. Skylar enjoys photography, editing, motion graphics and gaming.

© 2021 · Spark CG Society