WEBINAR: WARRIOR NUN




Celebrating Innovation & Inspiration in Computer Graphics


September 8, 2020


To attend this webinar, please follow this link:
Zoom Webinar
Passcode: 278303
Spark CG's ongoing webinar series is your opportunity to learn, be inspired and go behind the scenes of the making of some of the most exciting new productions in CG.
Have a recommendation or presentation request? Email us!

Tuesday - September 8, 3:00 PM
WEBINAR
THE VFX JOURNEY OF WARRIOR NUN: FROM PRE TO POST PRODUCTION
Presented by The Embassy
Moderator: Marina Antunes with Michael Blackbourn, Nick Whiteley & Paul Copeland
As the sole vendor on Netflix' Warrior Nun, The Embassy was responsible for completing nearly 700 shots with a studio of 30 artists, bringing the same level of quality the studio achieves in their film and commercial work. The team will discuss all aspects of production, from creature concept and on-set planning, to post-production, focusing on elements that were unique to the series and interesting challenges that The Embassy faced throughout the production.

BIOGRAPHIES
Marina Antunes
President // Spark CG Society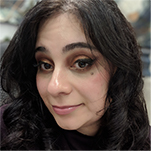 Marina has been writing and discussing film for over 15 years, first on a personal blog followed by a decade long tenure on the now retired Row Three. In 2008, she joined the writing staff at Quiet Earth, becoming Editor-In-Chief in 2014, a role she still holds. Over the years, she has also produced and hosted a number of podcasts including Before the Dawn, a long-running podcast on the Twilight franchise, Girls on Pop, a podcast on film and popular entertainment from women's perspective and After the Credits, bi-monthly film podcast with nearly 300 episodes.
Marina is a member of the Online Film Critics Society and the Alliance of Women Film Journalists, is the Vice President of the Vancouver ACM SIGGRAPH chapter and has served on juries for several film festivals including DOXA, St. Louis International Film Festival, and the Whistler Film Festival. She joined the Spark CG Society as Festival Director in 2014.
Quiet Earth
After the Credits
Twitter
Facebook
Michael Blackbourn
VFX Supervisor // The Embassy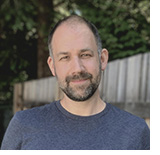 Michael Blackbourn began his career as a visual effects artist in 2001 after training as both a pencil-and-paper and 3d character animator. Over his nearly twenty-year career he has personally handled every facet of visual effects. He has specialized over time, in shading, lighting, and now as an overall VFX supervisor. He's been with The Embassy since 2006, leading the team to bring life a variety of projects in television, commercials and feature films. While at Embassy, Mike has supervised projects including; Iron Man, Lost in Space, Hunger Games, and our current series Warrior Nun for Netflix.
Nick Whiteley
Comp Supervisor // The Embassy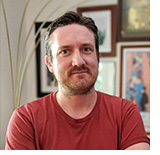 Nick has over thirteen years of experience compositing high end block buster features and TV. Some of Nick's credits include Wrath of the Titans, Narnia, Pirates of the Caribbean, Sherlock Holmes II, Night at the Museum, Maleficent, Sully, and more recently Wrinkle in Time and Skyscraper before turning to work on shows for Netflix and other streaming services.
Before coming to The Embassy, Nick had worked at three of the major VFX houses, Framestore, MPC and Cinesite.
As lead compositor at MPC, he won Employee of the Year for his work on Disney's The Finest Hours — a challenging film about a boat rescue in a storm, involving over 600 shots with CGI water and weather.
With over a decade closely working with some of the most renowned VFX supervisors and producers in the field, Nick has a strong skill set which encompasses all aspects of the industry. As a compositing supervisor, Nick has built several teams throughout the years. Seen as a motivator and a leader, artists enjoy working alongside Nick to produce the best work that they can.
Paul Copeland
Asset Supervisor // The Embassy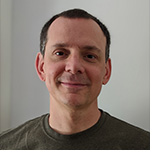 Paul Copeland has been at The Embassy VFX for over 14 years. His diverse skill set encompasses all aspects of digital asset creation, animation, on-set supervision and CG supervision. During his career as a generalist, he's focused primarily on the creation of high-quality assets for film, television and commercials with a portfolio that ranges from the creation and animation of the Iron Man Mark 1 and District 9 Exosuit to making creatures, vehicles, and environments for some of the world's biggest brands. Paul thrives on bringing amazing designs to life on screen and helping creators tell their stories.

© 2022 · Spark CG Society