CHAPTERS PARTY




SIGGRAPH 2020: THINK BEYOND


August 28, 2020



Party all week with ACM SIGGRAPH Chapters at party.siggraph.org!

Since 1985, the ACM SIGGRAPH Professional and Student Chapters Committee have traditionally organized a party on the first evening of the SIGGRAPH Conference.

The Chapters of the world have been hard at work to make sure the party goes on, for all tastes and styles. We're also showcasing parties and events from other ACM SIGGRAPH Committees. Browse and join the rooms that spark your interest at party.siggraph.org!

This is the 30th Occurrence and 35th Anniversary of the ACM SIGGRAPH Chapters Party. The first Virtual one!

Registered Conference Attendees can directly join the Party Room via the Conference Schedule on Hubb.

Those not attending the conference can register to the Vancouver Chapter's Trivia Night on this page.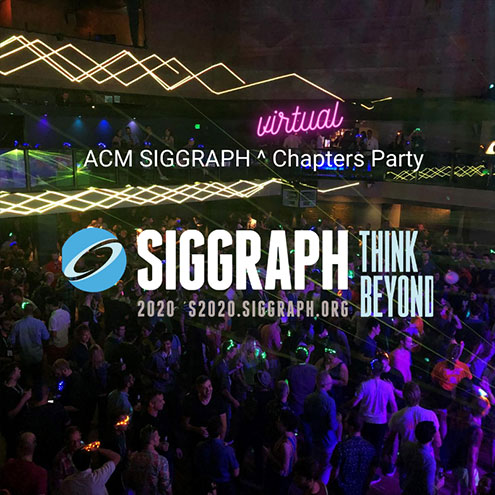 Friday - August 28, 8:00 PM
NETWORKING
STAR WARS & TOY STORY ANNIVERSARY TRIVIA NIGHT

Are you a Toy Story superfan? Perhaps you're knee-deep in Star Wars mythology and know all of the obscure references? Do you prefer to sit on the sidelines and watch the competition unfold?
On Friday, 28 August 2020 at 8 pm, celebrate the 40th anniversary of The Empire Strikes Back and the 25th anniversary of Toy Story by joining us for "Star Wars & Toy Story Trivia Night." The free event taking place as part of the SIGGRAPH 2020: Chapters Party is your opportunity to meet, mingle and compete with fellow movie fans.
Presented by Spark and Vancouver ACM SIGGRAPH, and hosted by Brainstorm Trivia, this is sure to be an exciting evening plus your chance at bragging rights if you come out victorious!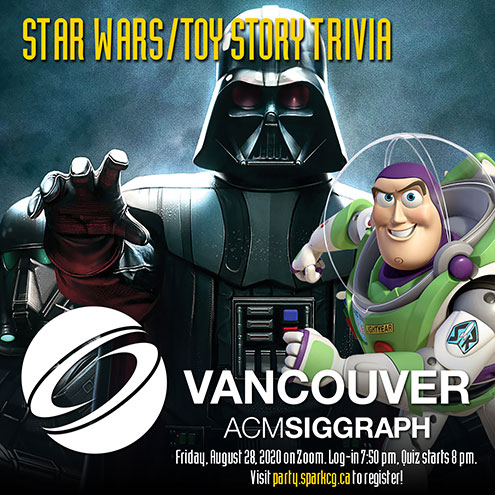 © 2021 · Spark CG Society