Terabyte Sponsor




Megabyte Sponsors




Kilobyte Sponsors




Byte Sponsors




Partners




Alliance Partner







WEBINAR: 15 JULY 2021




Presented by DNEG London


July 15, 2021


In a world cleaved in two by a massive barrier of perpetual darkness, where unnatural creatures feast on human flesh, an outsider named Alina emerges as a powerful force that may finally unite her country. In order to unite her people, she must first learn to use her magical powers. This is the world of Shadow & Bone.
Online reservations are now closed.

Thursday - July 15, 12:30 PM
WEBINAR
BEHIND THE MAGIC OF 'SHADOW & BONE'
Presented by DNEG London
Moderator: Marina Antunes with Mario Brioschi & Raphael Hamm
Come aboard the impressive VFX work behind Netflix' series Shadow & Bone and follow DNEG VFX Supervisor Raphael Hamm and Compositing Supervisor Mario Brioschi on their journey from the initial concept to the final result. From hundreds of environment extensions to supernatural light effects, discover how the DNEG team worked on 8 episodes and delivered over 500 shots including a photo-real but magical stag.

BIOGRAPHIES
Marina Antunes
President // Spark CG Society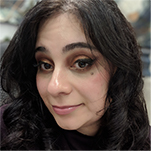 Marina has been writing and discussing film for over 15 years, first on a personal blog followed by a decade long tenure on the now retired Row Three. In 2008, she joined the writing staff at Quiet Earth, becoming Editor-In-Chief in 2014, a role she still holds. Over the years, she has also produced and hosted a number of podcasts including Before the Dawn, a long-running podcast on the Twilight franchise, Girls on Pop, a podcast on film and popular entertainment from women's perspective and After the Credits, bi-monthly film podcast with nearly 300 episodes.
Marina is a member of the Online Film Critics Society and the Alliance of Women Film Journalists, is the Vice President of the Vancouver ACM SIGGRAPH chapter and has served on juries for several film festivals including DOXA, St. Louis International Film Festival, and the Whistler Film Festival. She joined the Spark CG Society as Festival Director in 2014.
Quiet Earth
After the Credits
Twitter
Facebook
Mario Brioschi
Compositing Supervisor // DNEG London
(Shadow & Bone, Chernobyl, Wonder Woman, Star Trek Beyond)

Mario Brioschi is a DNEG Compositor Supervisor with over a decade of experience in TV, film and advertising. He joined DNEG in 2013, and his love for art and technology has lead to his work on well-known shows including Star Trek: Beyond, Avengers: Age of Ultron, Wonder Woman, Fantastic Beasts: The Crimes of Grindelwald and Letter for the King. His attention to detail and affection for the fast pace of the TV pipeline guided his contributions to the Emmy winning HBO series Chernobyl as a lead compositor. Not long after that, Mario was a 2D Supervisor on World on Fire before being promoted as Compositor Supervisor on Netflix' series Shadow & Bones which was released earlier this year.
Raphael Hamm
VFX Supervisor // DNEG London
(Shadow & Bone, Venom, Dunkirk, Paddington)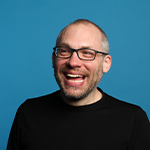 Raphael Hamm is a VFX Supervisor at DNEG, who recently delivered DNEG's VFX work on Netflix' Shadow & Bone. Prior to this, he worked as VFX Supervisor on Netflix series Locke & Key and on BBC's World On Fire, for which he was also on-set supervisor. Since he joined DNEG in 2009, Raphael has worked with well-known directors such as David Yates, Christopher Nolan and Tim Burton on movies like The Dark Knight Rises, Harry Potter & the Deathly Hallows (Part 1 and 2) and Miss Peregrine's Home For Peculiar Children. With over fifteen years of experience in compositing under his belt, Raphael is considered an expert in his field.

© 2022 · Spark CG Society